Skyfall Is the Best Looking Bond Ever, and One of the Best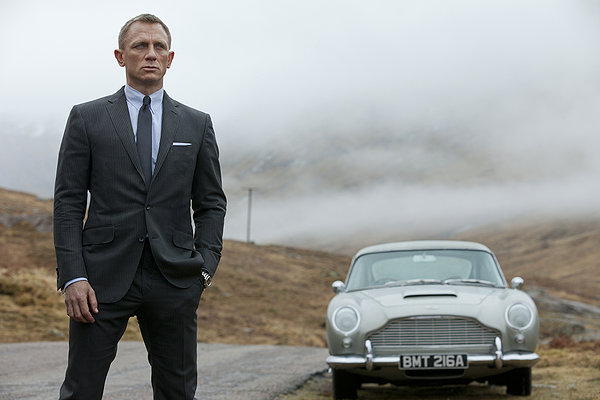 Skyfall
Directed by Sam Mendes
Written by Neal Purvis, Robert Wade, and John Logan based on characters created by Ian Fleming
Sony, 2012
James Bond enters his 24th official film with an army of the best filmmakers the series has ever had.  With respect to Martin Campbell, who still has two of the best Bonds ever under his belt (Goldeneye, Casino Royale), no one with the pedigree of Sam Mendes has ever tackled Bond.  And while some of the best visual artists like Ken Adam, who is known for all the crazy-awesome Blofeld sets from the early days has been a part of Bond, no one as much a master as Roger Deakins has been in charge of the cinematography.  What we have here is the best looking Bond ever, and it's one of the better Bonds you'll see.
In this we're-still-basically-rebooting-Bond third film of Daniel Craig's tenure, Bond is chasing after one of the bad guys, Patrice (Ola Rapace), who has stolen a list of agents (sort of like the NOC list from Mission: Impossible).  His partner, Eve (fantastic addition Naomie Harris), accidentally shoots him after a do-or-die call from M (Judi Dench, in her 7th appearance).  Bond is thought dead.  Roll Adele and classic Bond title sequence.
Meanwhile, M is getting some disturbing computer transmissions and MI6 is under siege by the latest villain, Silva (Javier Bardem, who is freaking great).  Silva's plans are personal, and this drags M into a Bond flick more than ever before.  Bond comes back, of course…a little shaky though.  The politicians in London are cracking down on MI6 and M's latest failures.  And the highly underestimated bureaucrat Gareth Mallory (Ralph Fiennes) is the semi-cheerleader of the situation.  We don't know how much of a hero or villain he could be.
Bond has to once again track down Patrice, then find his way to Silva.  Silva is one of those "always one step ahead" type villains.  It's fun watching the battle of wits.
If there was a negative, it's that I'm tired of the "this time, it's personal" Bond.  It's clear that this new Bond has eschewed a lot of the campiness of the old-school Bond, although there are a few more double-entendres getting thrown into the mix this time.  And we've gotten our first taste of gadget guru Q in this series, played by Ben Whishaw to perfection.  Maybe this Bond has to "mature" to the immature Bond.  But this Bond could really use a "take over the world" type of villain.  It's an oldie but goodie.  I like to think of spies saving the world, rather than a small portion of it.
That said, this is probably in the top 5 or 6 Bonds ever.  And not because that can sometimes come off as faint praise, since there are a lot of bad ones.  This one is a good movie on its own.  The movie, as said before, looks so great with Deakins doing the photography.  Mendes is a very good director: the scene where Silva makes his entrance is something we rarely see in cinema anymore, a mostly static, unbroken, very interesting shot allowing Silva to make that entrance, letting it breathe, tying us up in suspense.  All of the actors here are great: Bardem is getting Oscar talk, Craig is awesome of course, Dench is her usual great self, Whishaw, Naomie Harris…love.  And you've gotta love Bérénice Marlohe, surely one of the most gorgeous Bond women ever…but she didn't get nearly as many gasps as that Aston Martin.
You're going to see it.  So see it.  Good stuff.
Follows: Quantum of Solace
Write a comment
You must be logged in to post a comment.