42 Is Paint-By-Numbers: Good, But Empty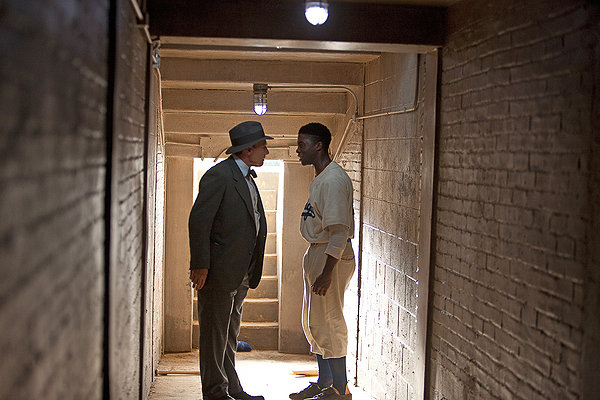 42
Written and directed by Brian Helgeland
Warner Bros., 2013
I'm not going to profess that I know the whole story of Jackie Robinson.  I've seen the Ken Burns take on it, and I've seen the HBO movie Soul of the Game that focused on players like Josh Gibson and Satchel Paige who were denied their entry into the majors during the time of Robinson.  I'm a huge baseball fan and have heard about Jackie Robinson for ages.  So yes, his story is important.  But I don't like that it's being turned into this kind of movie.  This is your everyday white guilt flick that plays well to audiences, but it's a light snackable take on Robinson's impact.
It comes from Brian Helgeland, who was last behind the director's chair for a major feature back in 2003 for The Order, preceded by another Heath Ledger movie, A Knight's Tale, and his debut, the Mel Gibson "root for the bad guy" film Payback.  He's probably best known for being one of the screenwriters on 1997's great L.A. Confidential and the screenwriter who adapted Mystic River.  His place as director of this movie is odd.  I know Spike Lee wanted to do this story for years, but for whatever reason, it never got made.  Now, a black director doesn't have to do this movie, but I would have liked to have seen Lee's take on it nonetheless.  I just found it odd for Helgeland to be the guy to do this.
It's 1945 and Brooklyn Dodgers' owner Branch Rickey (Harrison Ford, speaking in an accent that doesn't quite make you forget that he's doing an accent) has decided his team needs to break the color barrier.  The reason: well, he's got a deep reason for it, but the reason he wants to tell his men is that there are a ton of black spectators coming to see games and he'd like to cater to them.  After a process in which he scours the Negro Leagues for the right kind of ballplayer, one who "has the courage NOT to fight back" when things get tough, he settles on Robinson (Chadwick Boseman).  (As Soul of the Game points out, Robinson wasn't the best player they could have find, but the one least likely to get into trouble).  Upon finding out the news, Robinson proposes to his sweetheart Rachel (the very cute Nicole Beharie), and their personal journey through fire begins.
Robinson has to work his way through the minors, in Montreal, and hopefully get called up to the majors to be managed by the legendary Leo Durocher (Christopher Meloni, awesome as always).  But Durocher gets banned from baseball for a year for his adultery and pressure from the Catholic League, something that seems like will be a problem because Durocher could handle the heat.  Anyway, the fiery Durocher is replaced by Burt Shotton (Max Gail), which oddly, is kind of all the movie has to say about that.
Robinson's presence in Spring Training in Florida draws the ire of racists down there, who want to hurt the guy.  We see every single threat and racial slur from every other race-related movie here, that's to be expected.  His teammates don't want to play around him for various reasons: they aren't all racist (some are), but they will be chastised by others for playing with him.  I will say, I am glad that Helgeland decides not to paint the South as 100% racist as a lot of these movies like to do without batting an eye.  And we see this racial prejudice portrayed in the North as well, especially when the Dodgers come to play the Phillies and the people there don't want the Robinson Dodgers staying at their hotels, or playing in their ballparks.  The manager, Ben Watson (a man unfortunately born in Nashville, played by Alan Tudyk here) spouts off more racial slurs in one game than in the whole of Django Unchained.
There are people who like him and want him to succeed.  This is typified by Pee Wee Reese (Lucas Black), a man from Louisville who has family who might not approve of him playing with a black man, but is out to show that he embraces the change.
The movie is basically how Robinson started changing the way people think.  You have numerous mentions: a sports writer who thinks Robinson has an unfair advantage because of a longer heel that he thinks all black men have, a father in the stands who yells racial slurs in front of his son, who copies his dad rather unwillingly, and Rickey's observation of a white kid he saw imitating Robinson and wanting to be like him.  It covers this through the pennant chase of 1947, where the Dodgers would eventually go on to the World Series and lose to the Yankees in 7.
But in the end, I guess this isn't the movie I wanted.  There's nothing wrong with it.  It's not bad, it's not great.  I feel like it was just made a little too "spring popcorn flick" for my tastes.  I would have liked to have seen more about the men who didn't get into the majors for various reasons.  How did they feel about Robinson's success?  It couldn't have all been pride, there had to have been some jealousy mixed in as well.  And the characters in this are lacking character for the most part.  We see Robinson's teammates finally stand up for him, but the movie makes that transition a little too easily, encompassed in the one game where Watson is throwing out his racial slurs every second.  I would have liked to see how he interacted with his teammates on the road and outside of baseball games.
In all, a lot seems missing from this story, and that's how I ended up feeling about it when the credits rolled.
Write a comment
You must be logged in to post a comment.