Texas Chainsaw's 7th Entry Is Predictably Terrible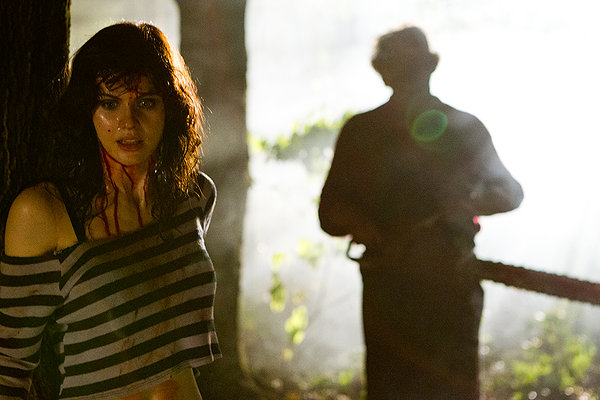 Texas Chainsaw 3D
Directed by John Luessenhop
Written by Adam Marcus, Debra Sullivan, and Kirsten Elms from a story by Marcus, Sullivan, and Stephen Susco based on characters created by Kim Henkel and Tobe Hooper
Lionsgate, 2013
2013's first entry is this load of nonsense in the Texas Chainsaw Massacre franchise.  If you remember, the original series went to 4, culminating in an episode with Matthew McConaughey and Renee Zellweger and the franchise was thought lost.  Not so, as we got into the huge remake game back in 2003 and Michael Bay decided he hadn't fucked up enough shit yet and decided he'd reproduce every horror movie ever made.  Out of that, we got a really, really nifty trailer that I think is still one of the best ever made.  But the movie sucked, and so did the prequel that came out later on.  So, time for a new invention I guess.
This time, the movie takes place in the original Texas Chainsaw canon, as we're taken to the creepy redneck house where the original murders took place.  A cop named Hooper (Thom Barry) is about to take Leatherface (in archival footage portrayed by Gunnar Hansen, but later played by Dan Yeager) to jail or an insane asylum or whatever, but the townspeople will have none of it.  A mob, led by Burt Hartman (Paul Rae) wants to shoot up and blow up the place.  Hooper is helpless to prevent it.  Forget it Jake, it's Texas.
The mob ends up stealing a baby from the house, and twenty years later we're shown the grown-up version: Heather Miller (Alexandra Daddario) has the terrible problem of being very hot.  Well, actually, when the last surviving member of the Sawyer clan (aka Leatherface's family) kicks the bucket, she leaves Heather her house because she somehow figured out where she was after all these years.  Heather, like new homeowners do, invites boyfriend Ryan (Trey Songz), her girlfriend Nikki (the French woman's daughter in Lost: Tania Raymonde, who is ridiculously pretty), her new boyfriend Kenny (Keram Malicki-Sánchez), and then later hitchhiker Darryl (Shaun Sipos), because your new house needs to be christened with hitchhiker.
Not long after, the usual starts happening.  Leatherface actually lives inside the house somewhere, ready to attack.  The townspeople from before I going to find out he survived the fire.  Heather is going to find out the townspeople are to be as feared as Leatherface.  And there's a really dumb sequence of events that turns the franchise on its head and honestly, is stupid beyond belief.  I mean, this movie decides that everything Leatherface has done over the six movies, or four movies, or however you want to to look at it, isn't all that bad when you take a fresh perspective.
It's not a surprise when a franchise movie, entering 3D world, opening on the first week of January, sucks, but hey, suck it does.
Comments
Write a comment
You must be logged in to post a comment.