Movie Review: Goldeneye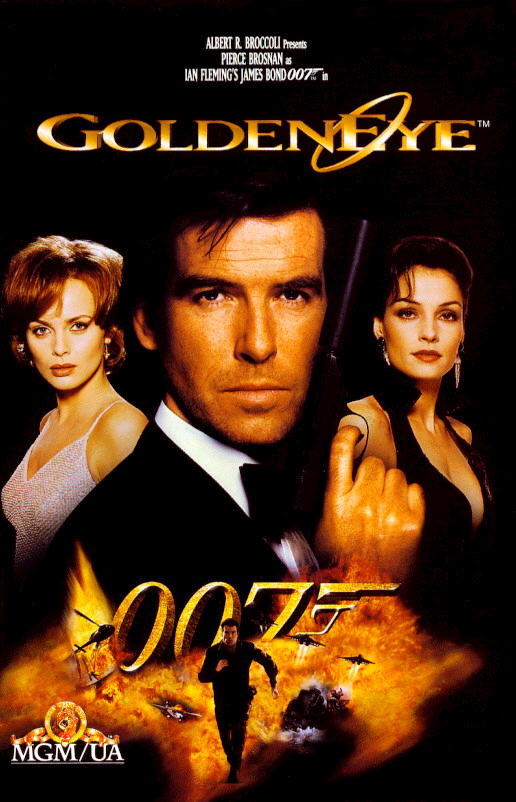 United Artists, 1995
Welcome to Blockbuster Bond. With the introduction of long-coveted Pierce Brosnan taking over 007 and becoming the fifth actor to do so, the franchise got a much-needed makeover in the process; not only from changing some elements of the creative team, but from its long hiatus (6 years) in which film had evolved technically by leaps and bounds.
Martin Campbell broke John Glen's five-film streak of directing Bond by becoming the sixth man at the helm. Before Goldeneye, Campbell's only previous full-on action film was the Ray Liotta futuristic prison B-flick No Escape. It apparently got him the job.
But something else had happened since 1989's Licence to Kill. No more Cold War. The Berlin Wall had come down. Who would be the enemy? Well…the Russians. Still. But this time, rogue Russians, not the government.
In this pumped-up, fresh-faced 007 adventure, Bond and Alec "Agent 006″ Trevelyan (Sean Bean) infiltrate a Russian weapons facility, ending in the death of 006 and another daring escape for Bond. The pre-credit sequence contains the record-breaking bungee jump off a huge dam, kicking off enthralling action and introducing Brosnan with a bang.
Then we focus on computer programmers Boris (the great Alan Cumming) and Natasha (ha! played by one of the top-3 gorgeous Bond girls, Izabella Scorupco), whose main job is to hack and break codes, respectively. They work in a facility that houses the Goldeneye, a weapon that can be used to wipe out an enemy's communications, destroy satellites, and down planes, not to mention generally confuse the enemy and preempts retaliation. This weapon is stolen by a Russian General Ourumov (Gottfried John) with the help of sado-masochistic Xenia Onatopp (Famke Janssen, who has never been better).
They work for…Trevelyan, who faked his death and has a vendetta against the British government for the death of his parents fifty years ago. Bond, who originally was sent out to find the Goldeneye by M (the great Judi Dench in her first turn, one of the most formidable actors ever in a Bond film) and in his mind, avenge the death of his friend, has found the tables turned. He gets help from Jack Wade (Joe Don Baker, playing his second different Bond character after The Living Daylights), Russian mafia guy Valentin Dmitrovich Zukovsky (Robbie Coltrane), and eventually Natasha, betrayed by Boris.
It's amazing that back in 1995, I didn't much care for this. Now that I watch it again, I find it to be one of the best of the Bonds. Pierce Brosnan brought back a lot of Connery's best qualities. The only thing missing really is style, something that got lost long ago as films paced themselves to set up for huge action sequences rather than character development.
Also, these two Bond girls might be among the best. Scorupco is not only exotically beautiful, but she plays a computer programmer and is far more convincing than many other Bond girls before her (and certainly more than Denise Richards later with The World is Not Enough) when given a typically male job. Also, Janssen's Onatopp is so evil and sexy at the same time, it makes absolute sense that when she kills one of her victims using her deadly thighs, he later turns up pale but with a smile perpetually stuck on his face.
With the Bond of the eighties, producers Michael G. Wilson and Albert R. Broccoli wanted to make a "more realistic" Bond, one not dependent on gadgets. But by 1995, technical gadgetry was beginning to really take shape and become a regular part of everyday life. It would have been pretty ridiculous for this Bond not to get his hands on some really nifty items, better than the ones available to the public. Desmond Llewelyn's Q got his gadget-lab scenes back from the earlier 007 entries, and the movie is more fun for it.
Also with Brosnan and the re-invention, the double-entendres fly a lot more liberally than ever before. Bond films had always been a bit cheeky, but the next four films go overboard on the interplay between men and women. A lot of it comes from Bond and the new Miss Moneypenny (interestingly enough, her name is Bond. Samantha Bond), who return to the flirty Connery days. By 1995, the Bond films had escaped the height of politically correct awareness and slipped right into the heydey PC backlash.
Goldeneye is probably one of the top 5 007 adventures; it's got all the right ingredients.
Some notes:
Credit sequences are now done by the digiphile Daniel Kleinman, who replaces Maurice Binder but still echoes his work even though it looks like a screen saver nowadays, and a pretty cool Tina Turner song written by Bono and The Edge recalls Shirley Bassey's work of the past. Desmond Llewelyn broke Lois Maxwell's record of Bond appearances with his 15th turn as Q.
This was also the first film not to have really anything to do at all with Ian Fleming. The title comes from the name of his home in Jamaica where he wrote the Bond novels.
Follows: Licence to Kill
Next: Tomorrow Never Dies
Write a comment
You must be logged in to post a comment.