Movie Review: Casino Royale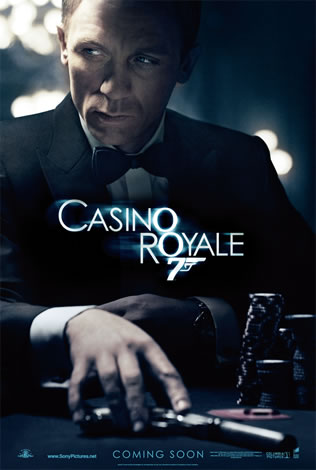 Casino Royale
Directed by Martin Campbell
Written by Neal Purvis, Robert Wade, and Paul Haggis from the novel by Ian Fleming
Sony
Ian Fleming's first novel finally gets its big screen glory from EON Productions, and now, all of Ian Fleming's Bond books have been turned into movies.  The franchise now stands at 44 years old, and the sixth actor to play 007 is Daniel Craig, the much-maligned blond one.
But, he's also the most badass. Here in the Casino Royale stage, Bond hasn't yet broken in his boss M (Judi Dench, playing for the fifth time) but he's living dangerously trying.  He's a lot more reckless, and hasn't quite become the total womanizer although he's still a pimp. Since movie franchises of today are in the total reinvention stage, this Bond is also totally buff and has taken on survival skills that rival Jack Bauer from 24.
The opening sequence shows us Bond earning his "00″ status by killing two men, and the familar 007 gunshot towards a camera gets reborn as something different, as do the titles, done by Daniel Kleinman since Goldeneye, but undeniably Bond anyway, featuring the vocals of Chris Cornell.
In this installment, officially the 21st, Bond is tracking down a banker for world terrorists named Le Chiffre (Mads Mikkelsen), who thanks to Bond has lost a little over $100 million (the key Bond dollar figure in almost every movie it seems) of the terrorists' money on the stock market.  So Le Chiffre sets up a poker game at the Hotel Montenegro with a $10 million buy-in and a $5 million re-up, obviously to try to get it back.
Bond meets British government accountant Vesper Lynd (scorching Eva Green), who is not only playing Bond's wife but is making sure the government is putting in a good investment on his Texas Hold 'Em skills, and his contact is a man named Mathis (Giancarlo Giannini) who has greased the political wheels for Bond.  Even Felix Leiter makes an appearance at the poker table in the form of Jeffrey Wright, the eighth (unofficially ninth) actor to play the CIA agent.
After the poker game, that's where the usual double-crossing and Bond-in-peril stuff happens, leading to a great action finale and an immortal last line.
But…I have a complaint.  Perhaps it's Martin Campbell, who in 1995 became the sixth Bond director with Goldeneye, another tweaking to the franchise; he can't seem to cut his movies down to a reasonable length, and that might also be the fault of editor Stuart Baird, who cut Campbell's long The Legend of Zorro.  Because you see, within the two hour, nearly thirty minute run time, there are some stretches that could have been pared down, especially a long love and travel sequence with Bond and Vesper.  There's a great, great two hour movie in here.  Now it's just a good movie with some flaws.
What's more, a scene from the trailer in which Vesper tells Bond that she's going to "keep an eye on the government's money, and off your well-formed ass," while it's in the movie, does not contain one of the sexiest, humorous, beautiful expressions I've ever seen from the trailer, where Green says the line and narrows her eyes accompanied by a prim smile.  I nearly died when I found out that subtle, gorgeous look didn't make the final cut.
But now on to the good: all the action scenes, especially the beginning and end.  The poker game could have used a little more suspense, especially since this is the basis for the title of the movie, but it's OK.  Daniel Craig reminds me of Steve McQueen, especially from The Cincinnati Kid, in many scenes, and this should tell you he's got the attitude down.  Forget the blondness, and this so-called need to fit every single detail in a book, Daniel Craig is absolutely fierce and demands your attention.  Speaking of demanding attention, top-flight beauties Eva Green (who is a little bit more than eye candy in this, but mostly eye candy all the same) and Caterina Murino fulfill necessary Bond girl qualities.
Still, I wish they could have cut these long stretches or we would have had one of the best action films of the decade, and surely one of the top three Bonds ever.  As is, we have a good start, kind of like Batman Begins, which was also good but needed some work here and there.  I get the sense that Casino Royale becomes better on multiple viewings, which is a plus.  But one thing that worries me: most of the great Bonds are based on Ian Fleming's books, and there's none left now.  It will be interesting to see if Craig can keep it up, and the stories get any better.  Bond fans, you may now rush the theatre.
Follows: Die Another Day
Next: Quantum of Solace
Comments
Write a comment
You must be logged in to post a comment.