Argo An Intense Look At A Long-Shot Hostage Rescue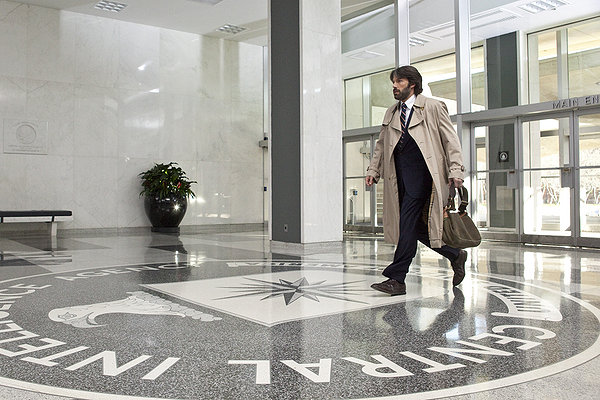 Argo
Directed by Ben Affleck
Written by Chris Terrio from the article "Escape from Tehran" by Joshuah Bearman
Warner Bros., 2012
Argo is the clear front-runner for Best Picture this year, which could easily turn on its head once some sentimental movie with a crowd-pleasing performance or two comes along.  For now, though, this is the favorite, and it comes from director Ben Affleck, whose Gone Baby Gone and The Town seemingly came out of nowhere to birth a new and unlikely directing star.
This film is way more ambitious and hard to pull off than his previous efforts.  Many times, these strange-but-true political intrigue stories have some limitations.  There's this odd tug-of-war between what really happened and what the filmmakers want to do to make the movie more exciting.  Luckily for Argo, there are plenty of fun characters and tense moments to go around.
Argo sets up the Iran hostage crisis which began in November of 1979, when the U.S. Embassy in Tehran was overtaken by protestors and then many of the diplomats inside were taken hostage.  Six of them managed to escape the Embassy (played by Clea Duvall, Tate Donovan, Rory Cochrane, Scoot McNairy, Christopher Denham, and Kerry Bishé), and found secret refuge with the Canadian Ambassador Ken Taylor (Victor Garber).  They stay at his house in Tehran, hoping never to be discovered, but always having to worry about inspections and surprise visits.  And while the Embassy staff was careful to shred and incinerate important documents, the powers-that-be have put numerous kids to work to piece together the shredded documents and find out if any potential hostages managed to escape.
Back in Washington, the government has come up with a bunch of scenarios, but none of them good.  There is no believable lie they can tell the various gatekeepers in Iran that can get the six people out.  Tony Mendez (Ben Affleck) thinks he can fake a film production crew doing a location scout, pretending that the six people he brings out of the country have only been there for a couple of days and are a part of his crew.  This idea isn't great, either, and carries a ton of risk, but it's "the best bad idea we've got," so says Jack O'Donnell (Bryan Cranston).  So the idea is to pretend to scout in Istanbul first, so that it looks like they're not heading straight for Iran, and then go into Tehran literally rubber-stamped by the Turkish government as legitimate.
But there has to be real believability at home, too, so Mendez enlists the help of makeup artist John Chambers (John Goodman), who won an Oscar for Planet of the Apes, who then finds producer Lester Siegel (Alan Arkin), who is a fictional character or the combination of a few real people.  Siegel and Chambers drum up real interest in an unproduced script called Argo, enough so that posters and storyboards are made to make the production look real.
Mendez has to navigate a very treacherous political landscape when trying to get these people out.  Being white, they can't exactly hide, and even their fake objective brings the ire of many people: taking pictures of locations isn't exactly something that is easy to do when there are a bunch of people who oppose even that kind of thing.  At some point, the idea is considered too risky politically…could these people's safety be at the whim of American military action?
While a few of the events in this movie didn't happen: apparently, the knuckle-whitening climax didn't, and the Canadian government is a bit upset they aren't portrayed as the true heroes (which I disagree with, I thought they were given some real hero status in the movie), you have to make a movie with an audience in mind.  If Argo's finale didn't really happen the way it did…maybe there was absolutely no intensity whatsoever, then people will leave the theatre perhaps misinformed but ultimately entertained.  It's that usual tug-of-war that happens with true events.  You either are going to hate it because there's not enough excitement, or because "it didn't really happen," or you're just going to sit back and relax and know that at least the basis of the movie is true and that the events surrounding it are amazing.
John Goodman and Alan Arkin are great in this, and I think Affleck could have been better served by putting someone else as the main character in his own movie.  I know the directing has given his career new life, and he was good for what The Town demanded, but this time I think he could have used someone else.  Affleck is good here but he's not going to be anything you remember well after the movie is over, which makes me think, either he didn't want to go "too showy" and wanted to let others shine, which is noble, but he's not hanging around Goodman and Arkin the whole movie.  Most of the time, the screen demands the main character's presence and we don't have much other than a very sincere CIA man.
Anyway, this is a very well-made film overall and definitely has a good chance to make my own top 10 at the end of the year..
Write a comment
You must be logged in to post a comment.