The Town Proves Gone Baby Gone Wasn't A Fluke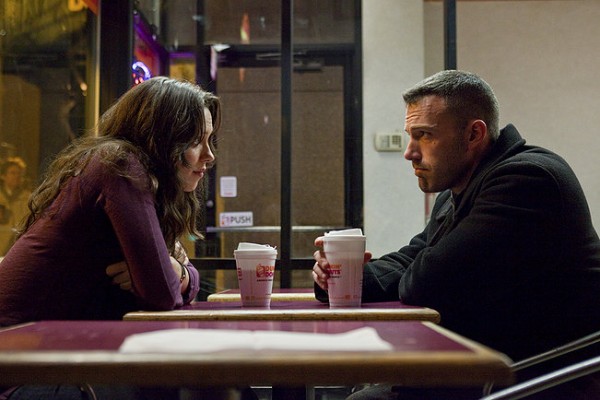 The Town
Directed by Ben Affleck
Written by Affleck, Peter Craig, Aaron Stockard from the novel Prince of Thieves by Chuck Hogan
Warner Bros., 2010
Gone Baby Gone announced Ben Affleck to the world as a director, and it began the shedding of a badly constructed image that had festered for nearly a decade.  Affleck took his new-found Good Will Hunting fame to do paycheck movies (including one called Paycheck) and a public romance with Jennifer Lopez that gave rise to celebrity romantic combo names like "Bennifer," culminating in one of those films people snap-judge as "the worst of all time," Gigli.  A little bit of a turnaround occurred in 2005 with the George Reeves biopic Hollywoodland, in which he gave one of his better performances of his career, but it was Gone Baby Gone that brought many back to attention.
When trailers for The Town began to emerge this summer, Affleck's film got something that Hollywoodland and Gone Baby Gone did not: palpable buzz.  Gone Baby Gone wasn't a huge hit (it topped out at $20 million), but thanks to all the various technologies we use to watch movies nowadays, you can't find many who haven't seen it and don't love it.  Yet, you could dismiss Gone Baby Gone as a fluke, considering Affleck had a strong source story to work from and a ton of name actors helping him out.  The second film is where you prove you didn't luck out the first time.  The Town is definitely that type of movie.
Affleck re-teams with his Gone Baby Gone writer Aaron Stockard along with newcomer Peter Craig (a man in his forties getting his first screenplay credit) for The Town.  Affleck also stars in this film as professional thief Doug MacRay, who along with his longtime buddy James Coughlin (The Hurt Locker's Jeremy Renner) and the rest of his crew (Gone Baby Gone's drug-dealing informant Slaine, and Owen Burke) rob a bank and take a fateful hostage, Claire Keesey (Rebecca Hall, who makes any movie worth going).  They release her soon after, assuring her if she talks she'll be killed, but unfortunately she lives near their base of operations, so Doug takes it upon himself to track her.  He sets up a chance meeting at a laundromat and it's not long after they start dating, with Doug keeping it secret from his boys and, obviously, lying to Claire about what he does.
The FBI Guy on a Mission is Mad Men's Jon Hamm, playing Agent Adam Frawley, who along with his partner Dino (the fantastic Gone Baby Gone/Lost actor Titus Welliver) are pretty sure MacRay and his crew are behind a string of armored trucks and banks getting robbed, but need to catch him in the act or find that elusive damning evidence.  MacRay's relationship with Claire has its obvious loose ends, as does his off-and-on relationship with young mother (and James' sister, and drug addict) Krista Coughlin (Gossip Girl's Blake Lively).
The movie patterns itself after Heat quite a bit, with "one last job" being a huge risk and threatening relationships, and the obvious problems with trying to "get out" of the life.  Pete Postlethwaite plays a florist named Fergie who brings jobs MacRay's way, and threatens his manhood should he try to get out of it, and James is resigned to a life of crime as the way some people from the Boston neighborhood of Charlestown often find themselves.
This movie isn't as good as Gone Baby Gone, but it doesn't appear to be trying to be a topper or aspiring to "all-time best heist film" or anything of that nature.  It's just a solid crowd-pleasing crime drama with a lot of actors people really like, and it does its job admirably.  Affleck has an assured touch, and he delivers scenes smartly.  It's always pleasing to see someone who obviously respects film behind the camera.
I wouldn't say anyone really delivers an Amy Ryan-dynamite breakthrough performance here, but Jeremy Renner, who might have had something just as much to prove as Affleck did after "coming out of nowhere" with The Hurt Locker last year comes off as the most memorable.  He brings that undercurrent of quick violence, someone not to be messed with, to every scene.
Ben Affleck is 2-for-2 as a director.  He's now officially a name you can respect on a marquee again.
Write a comment
You must be logged in to post a comment.