Movie Review: Gone Baby Gone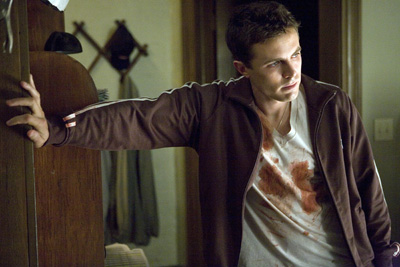 Miramax
Back in 1997, Ben Affleck and Matt Damon became huge stars on the basis of Good Will Hunting. Their screenplay won the Oscar, and both of their careers went different ways…twice. Affleck was the guy who got the attention as Damon tried to begin what appeared to be the more legitimate acting career. Damon's films weren't clicking, Affleck had a couple of Michael Bay movies and a constant face in the tabloids.
Then Damon suddenly became the box office star with The Bourne Identity and its sequels, Ocean's Eleven and its sequels, and last year's tremendous acting one-two with The Departed and The Good Shepherd. Affleck had become a sort of joke (although being married to Jennifer Garner is a sweet joke to be), but he made a slow comeback attempt with his performance in Hollywoodland. And by the next year, he was helming a big crime thriller with top stars…and he's getting that Oscar buzz again, respectability.
Another guy emerged from Good Will Hunting, although his career has been a low-key until this year. Casey Affleck, Ben's little brother, who stole scenes in that movie has a great one-two this year with The Assassination of Jesse James and Gone Baby Gone. He should get nominated on the strength of both films, which one is up to the whole "campaigning" process.
Perhaps it was important, or perhaps it was just a twist of fate, that Ben Affleck did this movie without any hint of Matt Damon's involvement. After all, Good Will Hunting was perceived as Damon's baby, and Affleck was just around for the ride. Affleck teams here with a guy making his screenplay debut, but he has a connection to the two: Aaron Stockard was a production assistant on GWH and was an assistant to Damon on The Talented Mr. Ripley. Together they have made an incredible film.
In Gone Baby Gone, Boston private detective Patrick Kenzie (Casey Affleck) and his partner/girlfriend Angie Gennaro (Michelle Monaghan) are approached by Lionel McCready (Titus Welliver) and his wife Beatrice (Amy Madigan) to find his sister Helene's (Amy Ryan) abducted baby girl Amanda (Madeline O'Brien). Helene seems a bit cold about the abduction, possibly only caring that something of hers was stolen rather than true concern. She's got a drug problem, hangs around with the wrong crowd, etc.
Patrick and Angie discover a drug deal gone bad involving Helene, her boyfriend Ray (Sean Malone), and a dealer named Cheese (Edi Gathegi). With the help of Boston detectives Remy Bressant (Ed Harris) and his partner Nick Poole (John Ashton), it is suspected that Cheese knows something about the missing girl. Meanwhile, police chief Jack Doyle (Morgan Freeman), while not exactly happy about the private detectives' involvement, helps where he can.
This is the sort of movie that I could find myself laying out the whole plot and you, the reader, might miss out on some of the surprise. From this point forward, I will only say that the whole movie doesn't hinge on whether or not they find Amanda, it hinges on a mini-climax in the middle of the feature that kickstarts a whole chain of events that I did not see coming. Much like Lehane's Mystic River, the missing girl becomes a catalyst for the characters to become heroes or fiends, when up until then they were firmly grounded in the middle.
The plot is well thought-out, with layer upon layer of mystery uncovered in a satisfying way. Ben Affleck knows what he's doing behind the camera, Casey Affleck gives a command performance, the supporting cast is all Oscar-worthy, and it would have been extremely difficult to make this movie any better.
A morally complex, more-than-satisfying mystery. Bravo.
Write a comment
You must be logged in to post a comment.