Hanna Another Pre-Summer Gem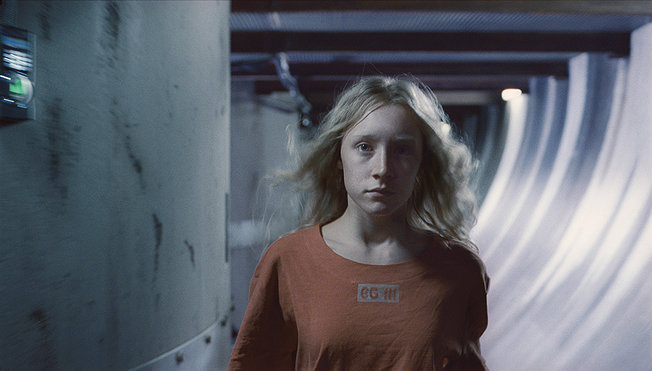 Hanna
Directed by Joe Wright
Written by Seth Lochhead and David Farr
Focus, 2011
The plainly-named Joe Wright is best known for the Keira Knightley movies Pride & Prejudice and Atonement.  Atonement was the movie that introduced us to Saoirse Ronan, a movie that brought her a very young Oscar nomination for Best Supporting Actress at 13.  Here, Wright and Ronan reunite for what is a change-of-pace for both, and the results are quite good.
Ronan plays the title character, a girl who has been trained in a remote area in a forest by her dad Erik (Eric Bana) for a day in which people might want to capture and hurt her.  She's special for a reason she does not know.  But on a day in which she is deemed ready, she can flip the switch of a homing device that will reveal their location to an interested CIA and set into motion a plot hatched by her dad where, she will be captured, he will separate from her, and ultimately they will be reunited and she can experience real life for a change.  I'm not sure if their original location is ever revealed in the film, but I believe it is so remote and off-the-grid that a normal journey to civilization, without the quick extraction by the CIA, would be suicidal for her alone.
But being picked up by the CIA is dangerous, too.  Marissa (Cate Blanchett) leads the CIA hunt for the girl and her dad.  Apparently Marissa was part of a secret scientific experiment and Hanna was part of it, and finding her is of utmost importance.  As you may have gathered from the trailer, Hanna is captured, kills someone posing as Marissa, and then uses her amazing warrior skills to begin a daring escape through a CIA outpost.  On the outside, Hanna must finally start learning about the real world very fast, as she finds herself in Morocco with no idea about people or technology.  She befriends a girl named Sophie (Jessica Barden), traveling with her little brother (Aldo Maland) and their parents (Olivia Williams and Jason Flemyng) and ultimately uses them to get closer to her father.
Marissa enlists the help of a man by the name of Isaacs (Tom Hollander) to help her do what the CIA won't let her do, which is the usual "find and kill at any cost" type stuff.  Meanwhile, Erik is making his own long journey on his own, trying to mind his own business but in no way hesitant to kill those who get in his way.
This film is beautiful, with a couple of memorable locales serving as backdrop to the somewhat typical hunt-and-chase thriller.  The labyrinthine CIA escape is great, as is action taking place in a shipyard, and in Grimm's Fairy Tale Forest (the film has the theme of a classic fairy tale).  Ronan is part of a young crop of actresses who all seem to get it, along with Chloe Moretz and Dakota and Elle Fanning, and she is stellar here.  Joe Wright is one of those guys who has an artist's sensibility behind the camera, and you can tell this wasn't just cut and pasted together by some dude looking for a break.  You also gotta love the old pro Cate Blanchett.  Once again taking on a (different) American accent, her villainous turn here is more menacing the sweeter she tries to sound.  Also, really dig that Chemical Brothers soundtrack.
Hanna is really good.  It might be the last really good movie we see for the next couple of months (I hope not), so it's worth a look.
Write a comment
You must be logged in to post a comment.