Movie Review: Atonement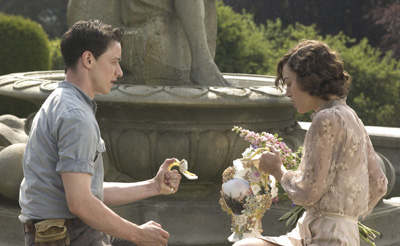 Focus
Joe Wright brought us a great adaptation of Jane Austen's Pride & Prejudice a couple of years ago, and it gave Keira Knightley a well-deserved Oscar nomination. Strange to say that, since Knightley is awful in the Pirates of the Caribbean movies, mainly because her character is so worthless, but it's the reason why she's a star. Hopefully she'll be known more for her challenging work down the road.
In Atonement, Knightley plays Cecilia Tallis, a young woman in the pre-WWII age who is on the verge of entering a good ol' fashioned courtship with gardener/hopeful medical student Robbie Turner (James McAvoy, who's excellent). Only the two haven't really gotten around to expressing their feelings. Tallis' younger 13-year-old sister Briony (intelligent newcomer Saoirse Ronan) has a vivid imagination, typing out plays, hoping her cousins staying indefinitely in her house will perform it. One day, Briony sees Robbie and Cecilia in an episode without the proper context, and thus begins a domino effect for every action Robbie takes from this point forward.
Meanwhile, the Tallis' brother, Leon (Patrick Kennedy) has come home and brought a chocolatier friend home with him, the lecherous Paul Marshall (Benedict Cumberbatch). As the Robbie/Cecilia affair begins, and every step Robbie takes paints a bad picture in Briony's eyes, other events swirl around to interrupt the love story. Briony accuses Robbie of a crime he didn't commit.
Four years later, Robbie is in World War II, taking the military over prison. As Briony has gotten older (played at 18 by the fantastic Romola Garai), the more she begins to realize the effects of her accusation. The question then becomes, can she get forgiveness from her sister, and can she atone for her mistake by at last telling the truth?
As the movie enters a much later time and Briony is played by Vanessa Redgrave, we get our answer, and a satisfying conclusion to a well-told story. Joe Wright has somehow made an art film that plays with time and perspective that doesn't seem overly pretentious. Usually these flicks with the war backdrop are awfully boring (like Cold Mountain), but this goes alongside The English Patient or A Very Long Engagement as fine exceptions. And those who may not like those movies may still like this one. It comes in at a brisk 2 hours.
Performances across the board are exceptional. You can't forget any of the three actresses who play Briony. It would be a unique feat if all three got nominated. Of course Redgrave would be getting it for like 8 minutes of screen time. Knightley and up-and-comer McAvoy are an engaging pair. Joe Wright now officially goes on the list as a director to anticipate in the future.
Comments
Write a comment
You must be logged in to post a comment.