Movie Review: The Last King of Scotland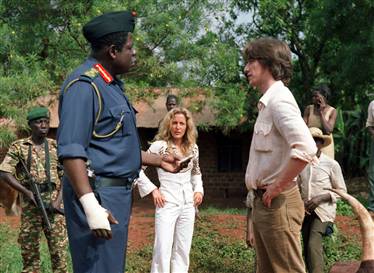 Fox Searchlight
This movie, a little bit Hotel Rwanda, a little bit All the King's Men, a little bit Apocalypse Now comes with the buzz that Forest Whitaker turns in an incredible knockout performance. People who know me and my reviews will note that I'm not exactly sold on an entire movie just for a central performance. A movie can often be dull and/or have no real story to it, and yet it's packaged as something great by the Oscar-bait acting that it contains. Luckily, The Last King of Scotland is more than just a performance movie.
It's the early seventies and Nicholas Garrigan (James McAvoy, the faun from Chronicles of Narnia) has just gotten his degree in the medical field, and looking for adventure he spins a globe and decides to use his newfound skills wherever his finger lands–in this case Uganda, a country undergoing a coup by Idi Amin (Whitaker), an action that is welcomed by many in the African nation. At first, he does the good work, helping impoverished children, assisting a Dr. Merrit (Adam Kotz) and his wife Sarah (a stunning, distinguished Gillian Anderson). Garrigan finds himself helping Amin out in an emergency call and the dictator warms to him, imposing his will to get him to become his personal doctor, tearing him away from where he is truly needed. While there, Garrigan sees Amin as a man ushered into power by Great Britain, and with the followers of his predecessor Milton Obote causing trouble, violently paranoid. Garrigan makes several missteps which lead him further into an inescapable abyss, indirectly contributing to Amin's paranoia, and ultimately to his own personal danger.
Amin will be remembered as one of the many in power who oversaw genocide in his career, but Garrigan's naivete, which is his main character flaw, keeps him from knowing the true nature of the man he is working for. Garrigan, who is fictional, sees Amin's humanity–and Forest Whitaker, for all the hype, is amazing. First off, the accent never seems to be a caricature, which is half the battle–then he displays forceful emotion, never getting to the point of so crazy I lost interest in him as a person. He shows genuine warmth even though he is undermined by his position to stay the course.
James McAvoy is also a breakout star in this–balancing Garrigan's childlike need for adventure and the sincerity in being a doctor who just wants to help people in spite of a lower payday. His decisions are sometimes foolhardy and deliver the movie its gripping plot. Thank God for that–plot is half the reason to watch a movie and it delivers. This is a winner. 
Comments
Write a comment
You must be logged in to post a comment.