Movie Review: Sleeping Dogs Lie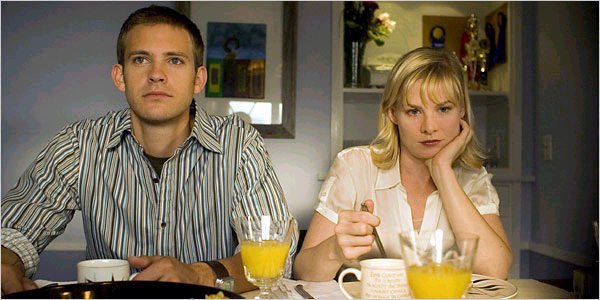 Roadside Attractions
Yep, that Bobcat Goldthwait.  Here's a simple little movie that starts off heading towards Kevin Smith territory then veers into typical low-budget minimalist storytelling within five minutes.  There's nothing wrong with it, but it certainly lacks punch.
The Kevin Smith part: Amy (Melissa Page Hamilton) has done something very, very wrong in her past, and when she starts seeing a guy she wants to marry named John (Bryce Johnson) they start sharing their so-called intimate secrets.  Amy's instincts are correct; she in no way wants to reveal the secret because she thinks it will end everything, and of course when she finally does, she's right, alienating her mom (Bonita Friedericy) and dad (Geoffrey Pierson), and fiance.  Meanwhile, her brother Dougie (Jack Plotnick) is a complete screw-up druggie waste of life who plays an important part in the unveiling.
After all that, the movie tacks on the "second romance" and her decision whether or not to repeat the same mistake, mixing in more family troubles.  Really, the movie needed to have what I'm going to refer to as "the whammy beginning" to have any interest in this flick at all. 
It's simple and sweet, but it's not really long-lasting entertainment.  It's never as subversive as the start of the movie would lead one to believe, and will likely be seen soon on video shelves or a late-night movie channel.
Write a comment
You must be logged in to post a comment.