Killing Them Softly A Beautifully-Shot, Well-Acted Crime Film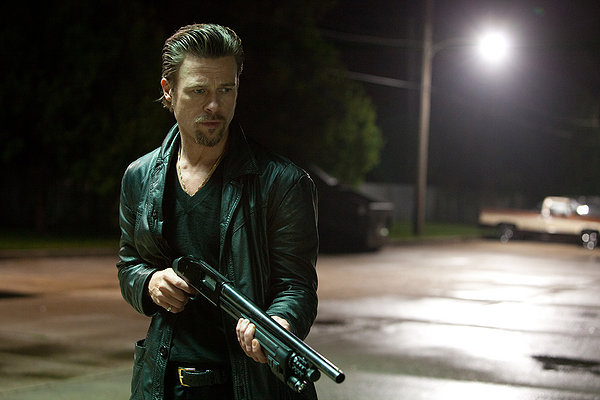 Killing Them Softly
Written and directed by Andrew Dominick from the novel Cogan's Trade by George V. Higgins
Weinstein Company, 2012
This has been a fantastic year, especially since September. Killing Them Softly is yet another unique experience, one that has been a trademark of upstart production company Annapurna Pictures, which has teamed with The Weinstein Company and is behind Lawless, The Master, and the upcoming Best Picture hopeful Zero Dark Thirty.
The thing that I've noticed about these Annapurna films is that they take their time.  They are shielded from the way movies are made today, and you'll see scenes breathe like they haven't since the 70's.  This movie comes from yet another well-respected director who has a couple of well-regarded films under his belt: 2000's Chopper and 2007's The Assassination of Jesse James by the Coward Robert Ford.  Killing Them Softly isn't going to wow you with great action, but with dialogue, performances, and beautiful shot composition from Greig Fraser (Snow White and the Huntsman, Let Me In).
Killing Them Softly starts out with a plan set into motion by Johnny Amato (The Sopranos' Vincent Curatola), who hires Frankie (Scoot McNairy) and his friend Russell (Ben Mendelsohn) to knock off a big card game run by gangsters, led by Markie Trattman (Ray Liotta).  The idea is that since Trattman has been known to have knocked off his own card game once before, that suspicion will naturally go to him and he'll be blamed.  Of course, Frankie and Russell are stupid, and they make a bunch of mistakes, and before you know it, hired killer Jackie (Brad Pitt) is brought in by wealthy businessman "Driver" (Richard Jenkins) to figure out who is behind the heist and what the best course of action is.
The connection between the wealthy people Driver represents and the criminal underworld is never made clear.  However, there are sound bites from George W. Bush and Barack Obama about the economy collapse throughout, framing this story in the year of 2008,  and the idea is that there isn't much difference between these wealthy businessmen, underworld gangsters, and politicians.  In fact, there is a "that about sums it up" speech at the end filled with anger that puts the whole thing in perspective.
Jackie is going to get paid for one hit, and he brings in Mickey (James Gandolfini), who used to be at the top of his game but is now a hopeless drunk, to do another hit.  The exchanges between Pitt and Gandolfini, and Pitt and Jenkins, are the calling cards of this movie.  I particularly loved the exchange when Jackie tells Driver that he's going to hire Mickey to do a hit, all he has to do is fly out, do the job, and collect $15,000 for the trouble.  Driver says, "Be sure he flies coach."
What happens from the point Gandolfini enters the picture is one of the very interesting and unique aspects of this movie.  A regular studio film would make this go in a very predictable direction.  But there is more on the mind of Dominick in this film than just a simple hitman story: it's a hitman story when rich people who can hire hitmen are having to tighten their purse-strings.  Some people might find the political undertones of the movie to be a tad preachy, but I found it to be a refreshing perspective on the overall product.  And Dominick does not take a political side: Bush and Obama's speeches, in the background, are both given quiet contempt.
All that and great performances from Pitt, Jenkins, Gandolfini, and Liotta, with those great scenes where Dominick savors the moment rather than cutting the movie to death, make Killing Them Softly a winner.
Write a comment
You must be logged in to post a comment.