Flight Illustrates A Complex Issue with Good Mix of Humor, Drama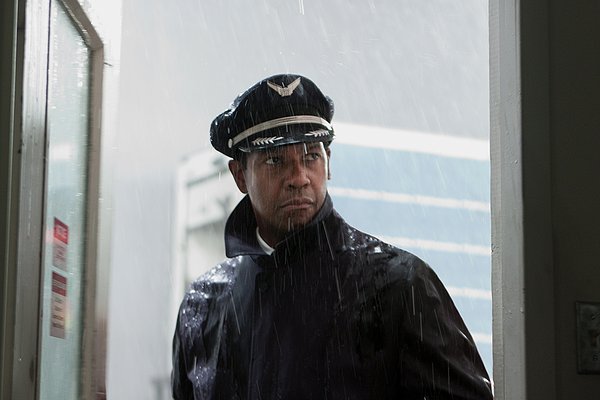 Flight
Directed by Robert Zemeckis
Written by John Gatins
Universal, 2012
Robert Zemeckis has not made a live-action film since 2000's one-two punch of What Lies Beneath and Cast Away.  In the years since, he's tried to be the 3D animation guru, with The Polar Express, A Christmas Carol, and Beowulf.  While these movies more or less succeeded (Beowulf was the one semi-disaster), I don't think they were the slam dunk Zemeckis was hoping for.  And now, Zemeckis returns to the live-action fold, with his first R-rated movie since 1980's Used Cars, and a Denzel Washington that harkens back to his Courage Under Fire role.
Flight is about an alcoholic pilot named Whip Whitaker (Washington) who we see in the very opening scene has partied hard with his very naked flight attendant Katerina Marquez (My Name is Earl alum and currently of The League, Nadine Velasquez).  Whip argues with his ex-wife (Garcelle Beauvais, absolutely stunning at 45) over the phone about alimony and his son Will (Justin Martin).  Whip is in no condition to fly a plane, but he's about to do it.  When he enters the cockpit and meets his co-pilot Ken Evans (Brian Geraghty), he asks him whether he wants to take a hit from the oxygen mask.  Ken is obviously perturbed, but we move on.
The flight has turbulence issues in the early going, and this is where we see a kind of magic happen.  Even with the alcohol and drugs in Whip's system, he's very calm and a natural born leader.  When the plane finds itself in even more danger, Whip continues to show his amazing demeanor while impaired, but the plane is going to crash.  A few people are going to die.  But if not for him, everyone would have died.
But the fact that a handful of people die is still a problem.  Someone still has to pay for that.  Was it a mechanical error?  Did the pilots do something wrong?And even if it is a mechanical error, there's still room for pilot error.  Of course he's getting his blood sampled.  His union representative comes in for support, Charlie Anderson (Bruce Greenwood), and they've hired criminal lawyer Hugh Lang (Don Cheadle, in a reunion with Washington from Devil in a Blue Dress) to sort out his possible criminal negligence.  The NTSB will be gunning for any details that could be problematic.
While in the hospital Whitaker meets another addict, Nicole (Sherlock Holmes' Kelly Reilly, who is excellent), and they start a relationship that is likely to enter rocky ground: she wants to recover, and after an initial scared-straight phase, he's hitting alcohol and drugs hard again, which is going to make his case harder to defend as he continues to spiral downwards.
John Goodman plays Whip's dealer Harling Mays, and between this and Argo, if this guy doesn't get an Oscar nomination for one of those, we will yet again lament the number of cracks in the system.
This movie is very good.  One very small scene truly got me on board with it when looking back.  There's a scene when Whip first meets Nicole in a hospital stairwell, sneaking a smoke.  A terminal cancer patient (James Badge Dale) also joins in on the party.  "I've been meaning to quit.  I'm going to give my cancer more cancer."  And he proceeds to steal the scene completely.  In about 99% of the movies you will watch in your lifetime, a character like that is instantly given license to show up unexpectedly several times throughout the feature to provide advice, or to provide our hero with some sort of redemption, but Zemeckis lets the scene be what it is and moves on.
It goes without saying that Washington is awesome.  This is definitely a role tailored for him.  It's got a lot of that Courage Under Fire feel to it, only he's even more rough around the edges and more likely to stumble due to his flaws.  We don't see too many characters like this in mainstream movies anymore.  He's our hero, but what he's done is frightening.  The movie constantly asks the question, "Is it OK for someone to be this way just because they are extremely good at what they do, even while they're loaded?"  It's a tough question to answer, which leads to good discussion afterwards.
The movie is funny and tense and well acted.  This is a great return for Robert Zemeckis.
Write a comment
You must be logged in to post a comment.