Battleship Is…Uh…Well, You Know…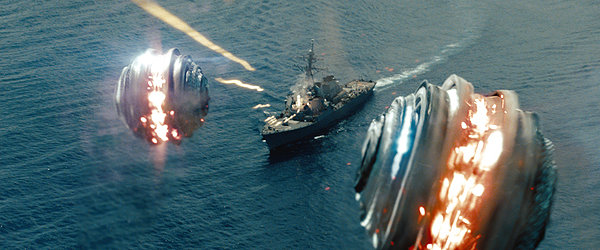 Battleship
Directed by Peter Berg
Written by Erich Hoeber and Jon Hoeber
Universal, 2012
Movies like Battleship are almost a waste of time to review.  The masses have spoken when it comes to dumb, loud action movies.  And what am I going to do?  Report to you that the movie is loud and dumb?  Really the only thing that I could impart to you is, "Better than expected," or "surprisingly good."  But 99% of the time, that's not the case.
Peter Berg has directed one good movie (Friday Night Lights), one passable movie (The Kingdom), one kinda dumb, but enjoyable movie (The Rundown), and one really bad movie (Hancock).  Then there's the cult favorite (I hated it), and his directorial debut, Very Bad Things.  His name on a film means virtually nothing, although I thought he might be one of the good ones there for awhile.  Here, he teams with writers Erich and Jon Hoeber, who wrote the awful movie Red, and the awful movie Whiteout, and that bad writing will continue here.
Battleship takes the board game and says, "I'd like to add aliens."  What would have been great, and what the movie actually lays the groundwork for, is a beautiful cat and mouse game between the US and Japanese Navies.  Hell, you put some sort of rogue element in a war-game scenario and turn it into real combat, you'd have a real battleship movie here.  Something that resembles making sense to the board game as well.  But no, fucking aliens.  And what follows is every alien movie you've ever seen.  The aliens are impossible to beat because of their advanced technology, but they have one simple weakness that could take them all down.  This is weak and lazy.
Alex Hopper (Taylor Kitsch) has no plans to be in the Navy, but when he tries to impress Samantha Shane (frightfully hot Brooklyn Decker) by acquiring a late-night burrito for her, one that requires breaking into a convenience store to do so, his troubles lead him to become a Navy man with his brother Stone (Alexander Skarsgård).  Fast forward, somehow he's almost engaged to Samantha and he's sort of a big deal in the Navy.  He's got two problems: the Navy wants to kick him out, and he's got to ask permission from Sam's father and his Admiral, played by Liam Neeson in his particular intimidating way.
Then the aliens show up and all those plans have to be put on hold.  Alex finds himself in a leadership position that no one, even he, thinks he can pull off.  On the other end of the spectrum, Samantha is helping a veteran who lost his legs (Gregory D. Gadson, real-life war hero) walk around on the Hawaiian islands, a task that will get them close to brilliant, but cowardly, engineer guy Cal Zapata (Hamish Linklater).
On occasion the action shows a flash here and there.  I liked one pretty cool tactic at the end.
But come on…aliens?  Really?  Once again they are ugly and lacking character.  They come to Earth and start blowing up everything in sight, but then at times, don't.  Like for instance, this didn't make any sense: they appear to only kill things that are threatening them, so they blow away whatever is doing that.  In one crucial scene, a ship is about to fire on them, but then thinks better of it, and the aliens decide not to attack.  But then in the very next scene, the aliens send three wheelie-cutty balls out into the world, and they just start fucking shit up that isn't a threat at all.  And even within that sequence, they're making decisions not to kill certain things.  It's all so they could put some sort of destruction to feed your attention-deficit brains, while lacking any sense.
So Battleship is, yeah…kind of awful.  But you knew that.  You didn't need me to tell you that.
Comments
Write a comment
You must be logged in to post a comment.