Haywire Is Simple, To The Point, Fine Action Filmmaking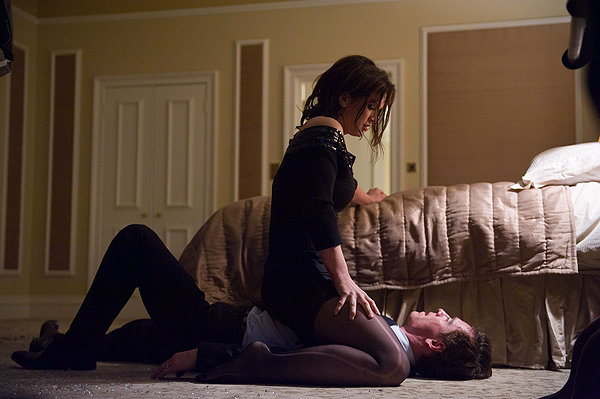 Haywire
Directed by Steven Soderbergh
Written by Lem Dobbs
Relativity, 2012
It should be noted that I don't know who I'd rather be in the above photo.  Michael Fassbender is badass!  And to see the comely former-MMA chick Gina Carano straddle this guy is one of the many highlights of Haywire, the latest film from tireless filmmaker Steven Soderbergh.
Soderbergh continues his experimentation by casting Carano as the lead, much like he did with porn star Sasha Grey with The Girlfriend Experience.  I'm sure in Soderbergh's mind, if you get a conventional actress, the action will have to be faked through editing.  You get a real fighter, you might lose something in the translation for acting.  While Carano's acting isn't award-worthy, at least it isn't cringe-worthy.  And I think that's the bare minimum you hope for when deciding to go with stunt casting.
Mallory (Carano) is being hunted down by a contract government agency, an agency with someone trying to cover something up and give her all the blame.  So while being hunted down, she has to figure out who's behind it.  It all starts in Barcelona, where she teams with Aaron (Channing Tatum) and two others to extract a whistleblower whose life is in danger.  Not long after, she wants to take a break.  Her handler Kenneth (Ewan McGregor) gets her another job a few weeks later, teaming with Paul (Fassbender) in a mission to take down another bad guy, Studer (Mathieu Kassovitz).  That's where everything goes wrong, she gets double-crossed, and she has to run for her life.
Possible suspects in the double-crossing are Kenneth, Rodrigo (Antonio Banderas), and the chief of some faceless agency, Coblenz (Michael Douglas).  And oh yeah, Bill Paxton plays Mallory's Tom Clancy-esque dad.
The chase/action is much like The Bourne Identity, told with Soderbergh's style and accompanied with music from Soderbergh's Out of Sight/Ocean's composer David Holmes.  The movie just works on a very basic level.  It's action-packed, and Carano has moves that are like a hot-girl version of Jackie Chan.  She plays the part fine, has some sexy acting chops, but yeah, you may be a bit cold from her dead line-readings, which don't really matter because I'm sure any for-hire action chick like this would speak in the way Carano does in this movie.
This is good.  Go check it out.
Comments
Write a comment
You must be logged in to post a comment.