Sorority Row Is Campy Fun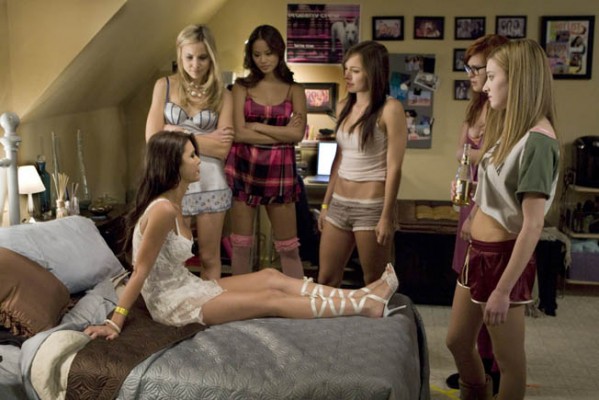 Sorority Row
Directed by Stewart Hendler
Written by Josh Stolberg and Pete Goldfinger based on the 1983 screenplay Seven Sisters by Mark Rosman
Summit, 2009
Sorority Row comes packaged like your typical terrible teen slasher flick, kinda like last year's remake of Prom Night.  This is a remake of The House on Sorority Row from the 80s, a movie that went on to inspire I Know What You Did Last Summer.  Willful camp like this is hard to make since many times it seems too clever, too knowing, but I'm not quite sure that when everybody involved got into this they were looking to make a movie that toed this line.  One thing is for sure: the last forty minutes of this movie are filled with laughter, much of it intentional.  This after the film tries to be straight-laced horror for the most part.
The sorority sisters of Theta Pi are playing a prank on Garrett (Matt O'Leary): they've drugged one of their sisters, Megan (The Hills' Audrina Partridge) so that when Garrett makes out with her, it'll look like she's dying or dead.  When the big moment occurs, Garrett enlists sisters Jessica (Leah Pipes), Claire (Jamie Chung), Ellie (Rumer Willis, Demi and Bruce's kid), Cassidy (Step Up 2's Briana Evigan), and his actual sister Chugs (Margo Harshman) to help him take her to a hospital.  But, Jessica declares Megan dead on the way there, and convinces Garrett he needs to dispose of the body so he doesn't get into huge trouble and affect his life forever.
So, they drag the knowing Megan into a secluded area and proclaim the need to dismember the body, which Garrett is way too eager to do, stabbing Megan with a tire iron, while everyone pretends to look for rocks to do the job.  Now, of course, the prank has gone way, way too far, and they find themselves having to dispose of the body for real, and they make a pact to never speak of what happened.  Cassidy wants to do the right thing, but her sisters tell her she'll be blamed if she does. Even though Cassidy has a boyfriend Andy (Julian Morris) who might be scared off by scandal, Jessica has a boyfriend (Matt Lanter) who will be scared off by scandal, as his father is potentially running for Vice President or something.
Eight months later, the sisters are still mum, with Cassidy playing a bit of an outcast.  But then a picture message comes across all their cell phones of a bloody tire iron.  Cue the death scenes, which are for the most part pretty creative and might give you a bit of a laugh.  The one that gave me the biggest laugh, only in retrospect, is of some random girl in a shower who overhears Jessica and Claire speak of the murder.  When you find out who is doing all the killings and why, you'll wonder why in the hell the killer was just hanging around a shower at that very moment…you know, just in case.
It is in the big sorority house party finale where the laughs become more frequent.  And we get Carrie Fisher, playing the sorority's house mother, popping up for some action and laughs.  It's amazing the transformation the movie takes at this point, because as I said before, it's pretty much a straightforward slasher movie to this point.  Whether it's the writing or directing, it looks like the filmmakers were not content to be just a Prom Night.  It's a left turn that is rather welcome, and as such will be memorable long after an initial viewing.
Write a comment
You must be logged in to post a comment.