Adventureland A Splendid Coming-Of-Age Story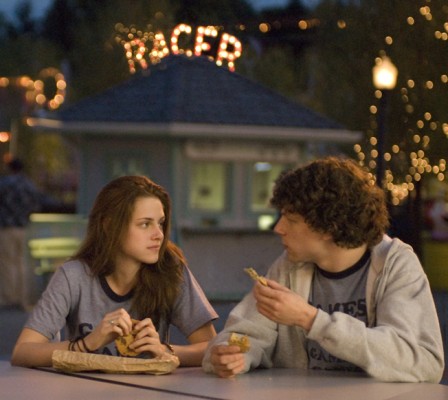 Adventureland
Written and directed by Greg Mottola
Miramax, 2009
Mottola easily could have slipped into Apatow hitman territory, and he could have coasted along nicely. Indeed, Adventureland, his new film after 2007's Superbad, has trace elements of Apatow, but unlike (the hilarious) I Love You, Man from a couple of weeks ago, it's a distinct product.  Adventureland is closer to movies like Dazed and Confused or American Graffiti, and for me, these kinds of films are comforting.  Mottola gets it all pretty much right here.
It's 1987 and James Brennan (Jesse Eisenberg, who perfectly fits in these types of movies) has plans to hit Europe with his buddy Eric (Michael Zegen) over the summer after graduation.  The kink in the plans is he's a bit short on money, and he hopes his wealthy parents (Jack Gilpin and Wendie Malick) can supply him with a couple hundred bucks.  Unfortunately, his dad has been transferred with a pay cut, and times are tight.  In fact, so tight that James might not get to attend Columbia.  So he has to get a summer job, and after awkwardly going around town doing something he's never had to do, he ends up at Adventureland theme park (hired by an oddball couple played by can't-miss comedy stars Bill Hader and Kristen Wiig), where he will be in charge of a few of the games, many of which are rigged.
While there, he meets Em Lewin (Kristen Stewart), the cute girl next door type who has issues with her dad's new wife and is having a secret affair with the married fix-it man Mike Connell (Ryan Reynolds).  He develops a friendship with his oddball games partner Joel (Martin Starr), and has a love-hate relationship with a long-time acquaintance, Tommy (Matt Bush, who you may know from those ATT ads where his mom is always scolding him about wasting his rollover minutes), who keeps punching him unexpectedly in the balls.  But of course the main thrust is that he's falling in love with Em, who wants to reciprocate but is holding back.
What gets it into that Dazed and Confused territory is the episodic nature of the storytelling.  At one point, he's pining over Em, who shuns him, opening the door for James to date the park's number one tease, Lisa P (Margarita Levieva).  There's also a brief romance between Joel and redhead Sue O'Malley (Paige Howard), and numerous smaller roles played by people who inject the film with secondary life.  It's methodical but never boring, frequently funny, and just overall an enjoyable time.
Much like I Love You, Man, all the performances are noteworthy.  Eisenberg and Stewart are fantastic, but are often upstaged by the likes of Starr and Bush.  Starr, who popped up in Superbad and Knocked Up, gets a good chance here to show off his chops.  He's a great character actor who is dying to for his own movie somewhere, which he probably will get in the future.  I hope it's soon.  In any case, the secondary actors here make the movie what it is.  With these comedies getting it right seemingly in such an effortless fashion, it makes you wonder why more movies can't do it.
Write a comment
You must be logged in to post a comment.