Deception: It'll Be OK if You've Never Heard of It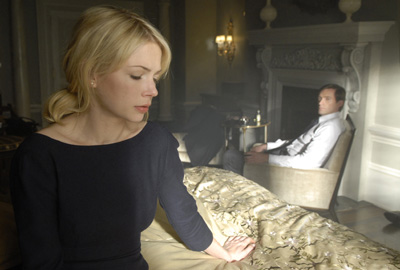 Deception
Directed by Marcel Langenegger
Written by Mark Bomback
Fox, 2008

Deception is the type of movie that, with a little more emphasis in making the plot just a tad more complex (not confusing), could have been a fun thriller. As it is, it's one of the worst movies you'll not see this year, and the ratio of talent to quality is pretty egregious. Oh, and you'll be forgiven for not having heard of it: it's one of those movies unmercifully dumped on Anyday, Calendar Year.
Jonathan McQuarry (Ewan McGregor) is a boring law firm accountant who does audits around New York City. If only someone out of nowhere would show him how to be fun. Enter Wyatt Bose (Hugh Jackman), who walks in on McQuarry late one night doing one of his listless audits and strikes up a quick friendship and lights up a friendly toke on the company dime. Take that, Harold and Kumar.
So Wyatt doesn't seem creepy at all because that's part of his seduction. One day, Wyatt and Jonathan's phones get switched, which we know is no accident. It's not long before Jonathan is getting phone calls from high-class poontang across the city. It's some sort of sex club for the filthy rich, who don't have time for relationships but need a good, anonymous lay after getting off at work at midnight. After knocking boots with Species' Natasha Henstridge, Jonathan is seen banging chicks silly in a montage worthy of Rocky IV. Yeah, getting unwittingly introduced into a sex club by a guy who was a stranger just a couple of weeks ago surely has no strings attached.
Jonathan, as much as he likes this foray into the strange, has eyes for one woman, one known only as S (Michelle Williams). He saw her one day getting on the 6 train awhile back, and as luck would have it, she's so part of the sex club! Jonathan likes facts and figures…he has no need for unlikely coincidences. One night, S disappears out of their hotel room and there's blood…and that's where Wyatt starts doing things that could totally screw up this friendship: He wants Jonathan to go to a law firm and steal $21 million in slush fund money, or else he kills S.
There is a fair plot development in the end of the movie, but one that is too little, too late and one that could have been used to better effect. A movie like this needs a good tete-a-tete, which it never provides. The twisty sex thriller needs suspense and plot to sustain and this movie is far too straightforward. It's a rush job of the highest order.
Comments
Write a comment
You must be logged in to post a comment.