Movie Review: Unaccompanied Minors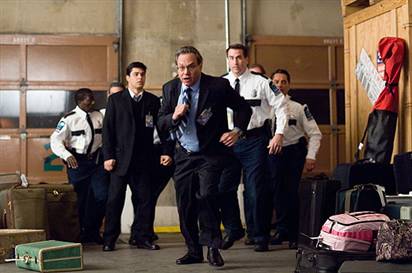 Warner Bros.
Welcome back to Home Alone, and The Breakfast Club, and, who could forget…Die Hard 2, for the latest obnoxious-kiddie romp.  I'll say this: it's better than the other live-action fare this winter: Deck the Halls and Santa Clause 3.  It gets some slack for being aware of some of its conventions, but perhaps in this day and age it's not so wise to have so much security breaching going on at an airport.  This could have just as easily been a mall…you know, like almost every other kids-trapped-in-someplace-huge movie does.
Kids of divorce Spencer Davenport (Dyllan Christopher), his sister Katherine (Dominique Saldana), old-soul Charlie (Everybody Hates Chris' Tyler James Williams), tomboy Donna (Quinn Shephard), hottie rich girl Grace (Gina Mantegna; yep, Joe's daughter), and creative big kid Timothy (Brett Kelly) all end up outside the larger group of unaccompanied minors at an airport during a tremendous blizzard that is keeping all the planes grounded on Christmas Eve.  And, because they're kids, that means everything in the airport is carte blanche to mess around with.  Airport security chief Oliver (Lewis Black, in another ridiculous role for him after Accepted and Man of the Year), who was going to Hawaii before the cancellations, now is making it his personal business to capture the kids and keep them locked up.  But, as Spencer remarks later, "divorce kids are just more resourceful."  Hmm.
Hey, this isn't an ingenious movie by any stretch.  And, like I said, this probably would be a lot less troubling outside of an airport.  It's very made-for-Disney-Channel, meaning it's not really an essential moviegoing experience.  But it does have it's occasional charms, and there's an army of comic actors, mostly doing cameos, from respected comedy environments, like Black and Rob Coddry (The Daily Show), Wilmer Valderrama (That 70's Show), B.J. Novak and Mindy Kaling (The Office), Cedric Yarbrough (Reno 911!), Kevin McDonald, Bruce McCulloch, and Mark McKinney (Kids in the Hall), Jessica Walter and Tony Hale (Arrested Development), not to mention Paget Brewster (of TV's criminally underseen and cancelled Andy Richter Controls the Universe) and comedic character actor David Koechner.  All of them sort of combine to make the movie just a little more winning than normal.
But hey, if you think for one minute I'm going to recommend this movie to anyone without kids then well, enter cliche here.
Comments
Write a comment
You must be logged in to post a comment.