Movie Review: Sweeney Todd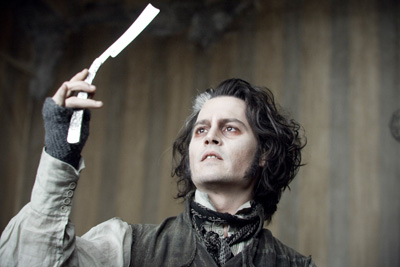 Dreamworks/WB
I've written over the years about how Tim Burton's films usually end up falling short for me, even ones that are popular like Sleepy Hollow.  Burton struck up enough goodwill back in the eighties and nineties (with a couple of exceptions) up to 1994's Ed Wood (clearly his best film).  But after that, his films started to lose their luster.  I could say without hesitation that Tim Burton hasn't impressed me since Ed Wood.
Burton's go-to actor Johnny Depp has now appeared in six of his films since 1990's Edward Scissorhands.  In Depp he's always been able to find the guy who can play the loner oddball who populate his various worlds: the guy born with the scissors for hands, the dreamer filmmaker who likes to wear women's clothing and has no talent, the investigator who uses scientific facts to solve his cases, Willy Wonka, and the dead groom in The Corpse Bride.  And of course, Sweeney Todd is no different.
At the beginning of the film, Sweeney (Depp) formerly Benjamin Barker, is on a London-bound boat relating a story to a young man named Anthony (Jamie Campbell Bower) about how he used to be a happy barber with his wife Lucy (Laura Michelle Kelly) and his baby daughter.  But someone else wanted his happiness, the evil Judge Turpin (the always great Alan Rickman), who sent his lackey Beadle Bamford (Timothy Spall, who is making a living being lackeys) to take him away to prison.
Returning now, Sweeney is bent on revenge and he goes back to his old shop, which is located above a roach-infested meat pie store, run by Mrs. Lovett (the terrific Helena Bonham Carter).  She tells him that his wife poisoned herself, and his daughter is being held captive by Judge Turpin.  Meanwhile, Anthony's first encounter when he enters London is with a beautiful blond songstress Johanna (newcomer Jayne Wisener), whom he admires from the street through her window.  Yes, she's Sweeney's daughter, and her captor Judge Turpin likes to spy on her through a hole in the wall.
Revenge has to be put on hold through various other plot points I won't delve into here, but that doesn't mean the movie doesn't kick into high gear.  Mrs. Lovett cooks up a scheme with Sweeney by which both of their businesses can benefit, and they, along with the little boy Toby (Ed Sanders) they've acquired from a huckster named Pirelli (Sacha Baron Cohen), they become an unconventional family while Sweeney dreams of his revenge.
This is one of those rare blends of music and story that come together.  Many times, musicals totally rely on their music to be a success, and the story isn't really all that great.  You add Tim Burton's usual good visuals to the mix and you've got a resounding winner.  Johnny Depp usually gets the raves in his films, and he's good here, but Helena Bonham Carter completely steals this from him.  She pulls off the perfect dark comedy performance, which is difficult to do because there's a balance very few performers can strike.  Too many times you see actors in dark comedies say or do terrible things with too much of a shrug.
Finally Burton has made a film that at least approaches Ed Wood.  I knew he still had it in him.
Comments
Write a comment
You must be logged in to post a comment.