Movie Review: Sleuth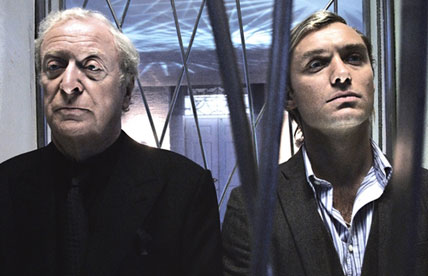 Sony Pictures Classics
Sleuth appears to be one of those plays, like Deathtrap, that could be done over and over again with different actors each generation and would never have the stigma that most remakes have.  That's the nature of plays; they usually last over time and different casts come in over the years, so the filmed version of a play has the same opportunity.  It's very rare that a filmed play is going to have a standard by which all movies after it will be judged, except for those that are inherently cinematic.
I am unfamiliar with the play and the 1972 movie that starred Laurence Olivier and Michael Caine, so I go into the new version fresh, much like I did with the highly-panned Heartbreak Kid.  What Sleuth has going for it is a perpetual where is this going? vibe, and it made me want to watch until the end.  But once I got to the end, it made me wonder if I would ever feel the need to watch it again.
Andrew Wyke (Caine, playing the role Olivier played opposite him in 1972) is a cuckold novelist who is about to meet his wife's lover, Milo Tindle (Jude Law).  He has invited him over for a sort of game.  Wyke wants Tindle to steal some jewels from his safe, claiming that he doesn't want anything to do with his wife anymore and that the actor/hairdresser Tindle will need the money to keep her.  Of course, there's no reason to trust Wyke, but Tindle goes through with it, figuring Wyke will grant his wife a divorce.
I hesitate in providing any more plot details, and have been intentionally vague on some of the ones I've provided here.  But this is an overall engrossing movie, if not ingenious.  The games between Wyke and Tindle aren't really exciting, the "battle of wits" is entirely too straightforward and what should be a see-saw battle is usually commanded by one or the other.  There's never anyone thinking two steps ahead (there's really not a true "game" where anyone could hold that kind of power, anyway), it's all psychological, getting into mild homosexual undercurrent and challenging each other's manhood and intelligence.
On the other hand, it does provide the opportunity for two great actors to play against each other, and Branagh films this with some style, with dialogue as action.  As a psychological thriller, it's pretty good.  I just wish there could have been more to the proceedings, and it suffers in the area of multiple viewings.
Write a comment
You must be logged in to post a comment.