Movie Review: Mr. Bean's Holiday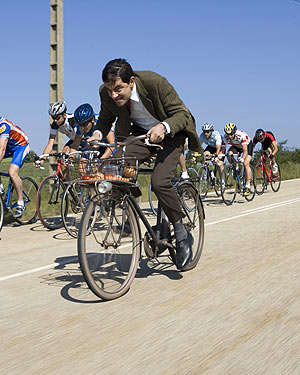 Universal
Mr. Bean is a throwback to the silent film era, where practically all of the jokes are visual.  It takes a Charlie Chaplin or Buster Keaton to really sell this kind of material, some inventive sight gags that at least gloss over the stupidity of the main character.
Rowan Atkinson, while talented in some way, is not Chaplin or Keaton, and most of the sight gags underline the stupidity of his character.  He hardly speaks a word and when he does, it feels like he's about to die from exhaustion.  For these reasons, his creation Bean is either hilarious or annoying.  And I pick annoying.
In Mr. Bean's Holiday, Bean (Atkinson) wins a raffle to go to France.  With a video camera in tow, Bean manages to find a way to cause havoc around him without anyone knowing it's him and even causing the innocent to get blamed.  Eventually, a "story" comes into focus:  Because of his nonsense, he makes a man (Karel Roden) miss a train, a man whose son Stepan (Max Baldry) is onboard.  Bean feels it's necessary to look after the kid, and lots of misadventures ensue.
Playing the "villain" in this is self-obsessed arty director Carson Clay (Willem Dafoe), who wants to take an actress named Sabine (the super-cute Emma de Caunes, who has an Audrey Tautou quality) to the top.  Sabine eventually teams with Bean and Stepan for more mischief.
All of this culminates in a fairly funny finale, but you have to sit through a lot to get there.  It's one of those movies that has a select audience, and it hopes to reach those select few and then go quietly to video.  In that regard, it's a success.
Comments
Write a comment
You must be logged in to post a comment.