Movie Review: Tomorrow Never Dies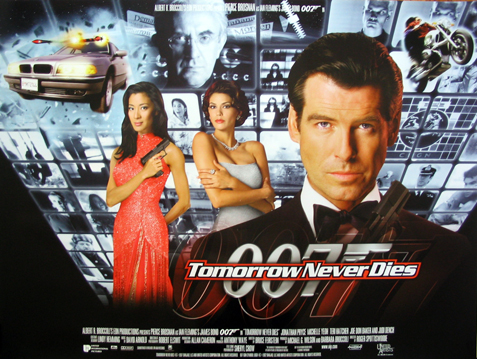 United Artists, 1997
Spottiswoode would become the seventh Bond director, but on the basis of what, I can't really tell. His most recognizable films were Turner & Hooch, Air America, and Stop! Or My Mom Will Shoot released in the late eighties and early nineties. Spottiswoode basically didn't interfere too much with the winning formula from Goldeneye. Brosnan had been accepted as Bond, and all that needed to be done was to make an exciting action picture. If the script is there and you've got professionals around you, then a movie like this seems to direct itself.
That's not completely true, but since studios started becoming mere percentage points of larger conglomerates, the bottom line has called the shots more than directors have these days. Seriously, if you look at Spottiswoode's resume, what exactly tells any producer that he can deliver a huge action hit? Nothing. This is why I debate this kind of thing. Spottiswoode must have been a perfect, deadline-beating professional and that's why he was chosen.
In Tomorrow Never Dies, media baron Elliot Carver (Jonathan Pryce) is staging a prelude to war between China and Great Britain and hopes to become an even bigger media baron with his impossibly quick reportage on said events, leading up to what he hopes is a full-scale war and his domination of the market.
Bond searches for information from Carver's wife Paris (Teri Hatcher), a former bedpost notch, and then teams with the initially unwilling Chinese agent Wai Lin (Michelle Yeoh, one of the biggest female ass-kickers of the franchise) in the hopes of bringing down Carver.
There are some excellent action pieces here, especially when Bond and Lin are handcuffed together and have to negotiate a motorcycle through a crowded street as bad guys and a helicopter shoot at them. Jonathan Pryce, who is normally a solid character actor, is given a rather lame supervillain to play, and his megalomania is kind of ridiculous. All of this is so he can become the first to cover a huge story and have exclusive media rights in China? Not very exciting, especially since Carver's conglomerate is already really, really huge.
Overall, it's got good action, but with no compelling villain it's average.
Follows: Goldeneye
Next: The World is Not Enough
Write a comment
You must be logged in to post a comment.