Movie Review: Pirates of the Carribean: The Curse of the Black Pearl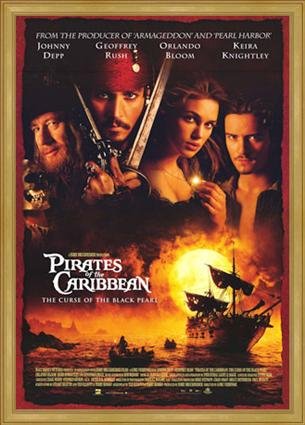 Disney, 2003
Director Gore Verbinski scored his second big hit in a row, after The Ring, with this big screen adaptation of…a Disney theme park. It's amazing that after years of under-the-radar, but largely appreciated work, this summer blockbuster was the movie that made Johnny Depp a big star.
In this movie, Depp plays Captain Jack Sparrow, an infamous pirate who has lost his ship, The Black Pearl, to a mutinous crew led by Captain Barbossa (Geoffrey Rush). He arrives to Port Royal in a sinking, stolen ship, looking for another one to track down his lost vessel. It's here we learn of Elizabeth Swann (Keira Knightley), daughter to the governor (Jonathan Pryce), who is being courted by Commodore Norrington (Jack Davenport), but longs to be wooed by blacksmith Will Turner (Orlando Bloom).
The Black Pearl's crew is cursed for taking the treasure of the pirate Cortez, and were turned into the undead, feeling nothing. The moonlight shows them as the frightful skeletons they are. For many years they have been looking for every last coin they spent, putting it back in the treasure chest, in the effort to become human again. Elizabeth has possession of the final coin, and after falling in the water while wearing the medallion, it calls to The Black Pearl. It's not long before Elizabeth is kidnapped, and Turner needs the dishonest Sparrow's help to find her. Sparrow has his own angles, and agrees.
There's another aspect to the curse in that the blood of each pirate (or their kin) must accompany each coin as they are dropped back into the chest. The Black Pearl thinks Elizabeth is the daughter of old crewmate "Bootstrap" Bill Turner when she tells them her name is Elizabeth Turner.
The antics of Depp's Sparrow steal the movie, which is a pretty fun action picture for the most part, until a ridiculous, overlong finale and even more ridiculous ending. Geoffrey Rush, if possible, is a co-stealer of the movie, as Barbossa is just as cleverly dishonest as Sparrow. But with Depp's admitted infusion of Keith Richards and Pepe Le Pew to form his character, he made dirty, dishonest fellows who wear makeup a sex symbol. He got nominated for his first Oscar with this performance, after notably being snubbed with Ed Wood and Donnie Brasco.
This was also a big picture for the fetching Knightley, who had starred in the indie hit Bend It Like Beckham just months before. Meanwhile, Bloom took on yet another mega-blockbuster after Lord of the Rings made him a hearthrob among teenage girls. During one stretch from 2001's Black Hawk Down to last year's Pirates sequel, Bloom appeared in 7 films grossing $100 million or more (it's about to be 8 when the third Pirates arrives). This kind of record led studios to inaccurately believe that he himself could carry big pictures and drive them to success. It's a laughable idea, since I don't think anyone credits Billy Dee Williams for The Empire Strikes Back, Return of the Jedi, and Batman. It's called spectacle, people.
In 2003, Pirates went on to gross a little over $300 million, ending up third behind #2 Finding Nemo and champ Lord of the Rings: Return of the King. It once was #16 all-time and currently sits at #22.
Write a comment
You must be logged in to post a comment.