Movie Review: Driving Miss Daisy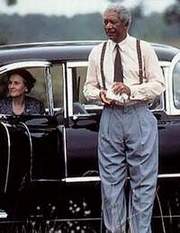 Warner Bros., 1989
An example of feel-good sentiment sweeping its way into the Academy's hearts, Driving Miss Daisy somehow won Best Picture despite not having a nomination for director Bruce Beresford (Tender Mercies), and going up against movies like Oliver Stone's Born on the Fourth of July and Peter Weir's Dead Poets Society.
Daisy Werthan (Best Actress Jessica Tandy, who at 81 became the oldest to ever win) is getting up in age, and is getting closer to being unable to care for herself.  Her son, Boolie (Dan Aykroyd, who became the second cast member of Saturday Night Live to get a nomination, after Joan Cusack) runs a successful business and is unable to care for her as much as he used to, so he hires Hoke Colburn (nominee Morgan Freeman, who had a great one-two punch with this and Glory, earning his second nomination after 1987's Street Smart) to drive Daisy wherever she needs to go.  Daisy does not think she's incapable, is full of pride, is kind of racist, and doesn't allow Hoke to help at first, but slowly she warms to him.
And that's about it as far as plot goes.  It's a sort of exploration on aging, not just Daisy but Hoke as well, even further personified in other characters such as Daisy's maid Idella (Esther Rolle) and her own son.  There's also a slight look into racism, but the subject is treated with kid gloves, or is treated very subtly, depending on your view.
The movie is often funny and touching, and it's easy to see how Jessica Tandy's winning performance, along with Freeman's usual likability, drove the movie into its Best Picture win as well.  Because Dead Poets Society is a better film.  So is Born on the Fourth of July.  And Phil Alden Robinson's Field of Dreams.  And arguably, the other nominee, My Left Foot, is better.  But 1989 will definitely be a year of strong criticism for not allowing Spike Lee's Do the Right Thing into the Best Picture category.  There's a movie that didn't treat racism with kid gloves or subtlety, and is clearly, today, considered one of the best films of that year (I'm one who does).  Racism was a huge topic in another un-nominated movie, the previously mentioned Glory.  And then, what about Steven Soderbergh's sex, lies, and videotape?  It's easy to see why that didn't get nominated, but it probably would today.  However you look at it, 1989 was one hell of a year and some very important movies didn't make it while lighter fare took their place.
Uhry won for his screenplay, based on his Pulitzer Prize winning play.  It was the first time since 1932's Grand Hotel that a movie won Best Picture but didn't get a director nod.
Write a comment
You must be logged in to post a comment.