Movie Review: Bridge to Terabithia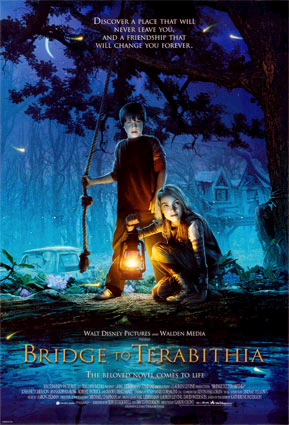 Disney
The Katherine Paterson book Bridge to Terabithia won the Newbery Medal in 1978 for Outstanding Book for Children.  Her son David gets a co-writing credit here for adapting the screenplay.
When I saw the trailer for Bridge, I thought, "Hmm…that's kinda cool I guess."  But the trailer is ultimately misleading.  This movie is not about two kids entering a fantasy world and trying to get out of it or anything like that.  It's mostly about gaining acceptance and learning values, and while this at first might sound really boring, it's not.  Bridge to Terabithia is the first film worth talking about in 2007.
Unpopular and bullied Jesse Aarons (Josh Hutcherson) struggles to find a groove in school until the new kid, Leslie Burke (AnnaSophia Robb) shows up.  Leslie quickly becomes unpopular and bullied as well, and later in the day Jesse discovers that she's his neighbor.  Despite a rocky start, they become friends and they start trying to find a place in the woods that will become their own fantasyland, swinging on an abandoned rope across a creek into a seemingly undiscovered country, letting imagination take over.
But, real life has to intervene.  Jesse has to deal with his family, notably his loving but stern dad, Jack (Robert Patrick), who is trying to teach his son responsibility.  At school, Jesse and Leslie learn how to topple the bully, but feel remorse when they go too far.  Adding further inspiration is their music teacher Ms. Edmonds (Zooey Deschanel).
First off, I'm going to celebrate director Gabor Csupo's touch with this film.  A former Simpsons and Rugrats collaborator directing his first feature, Csupo doesn't call unnecessary attention to things that your garden variety director can't seem to resist hitting you over the head with: something happens towards the end that could have been telegraphed with one simple ominous cutaway, and I applaud the restraint he shows in keeping a secret.  Also, some asides in the dialogue aren't given their own, unique shot in the picture: in lesser family films, some things that are said are given a jarring weight.  If there is one thing I can pinpoint about most family films, like the recent Charlotte's Web for instance, it's that directors want to call attention to every single line of dialogue and every action.  The film becomes busy by nature, never quiet or controlled.
He also quite deftly makes the kids' imaginations intuitive.  When Leslie says that a dragonfly is actually a warrior in the kingdom, Jesse initially says, "That's just a dragonfly," but then is told, "No, it's a warrior."  When he finally believes, then the movie takes a step over the reality boundary and anything is possible, and no more explanation is necessary.
Also, Hutcherson (Zathura) and Robb (Because of Winn-Dixie) are asked to carry the film and they do so.  These under-the-radar child actors have been overshadowed by showier types like Cameron Bright and Dakota Fanning, but seem to appear in only age-appropriate fare, which I think is wise.  Bright has always been the creepy kid, and Fanning is getting close if she hasn't already.  It's that certain something Simon Cowell always refers to when he sees a 16-year-old doing spot-on Whitney Houston: something annoyingly precocious about it.  I hope Robb and Hutcherson continue to go down this path.
If you have any inclination to watch this, go and do so.  It's an early year-end-list contender.
Comments
Write a comment
You must be logged in to post a comment.