Movie Review: Octopussy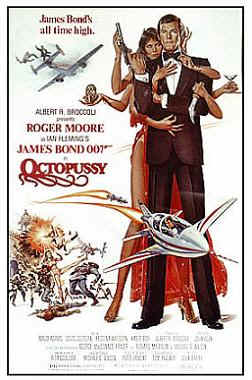 MGM/United Artists, 1983
1983 was a big year for Bond fans; they got the latest EON production starring Roger Moore in his sixth appearance as 007, and they got Never Say Never Again, a remake of Thunderball starring Sean Connery. Octopussy got the summer jump, released June 10 in the US, while NSNA came out in October. I'll delve more into it when I get to NSNA.
Yes, we've heard the double-entendre-laden female characters of the 007 franchise before, but in the title? This is something I'm sure gave some gatekeepers (like the MPAA) fits, debating on whether the title was obscene or not. But it does come from the Ian Fleming short story, and like all cheeky names like this, there's an explanation that gets it to pass the board.
John Glen directs his second Bond film, this one concerns Faberge eggs being stolen, sold, and replaced with fake ones, a plot masterminded by a ton of villains. First, there's Russian General Orlov (Steven Berkoff, who would make a living exploiting eighties Cold War paranoia as Russian villains in Rambo II and Beverly Hills Cop), who wants to cause a nuclear accident that will cause NATO to call for a nuclear disarmament and therefore make way for Russia to conquer the world, there's the middleman Kamal Khan (Louis Jourdan) who is coordinating the heists and the sales, and then there's the mysterious Octopussy (Maud Adams, playing her second Bond girl after Andrea Anders in The Man with the Golden Gun), who uses her Octopussy's Circus (which I took as an homage to Pussy Galore's Flying Circus from Goldfinger) as a front to distribute smuggled jewels.
In India, Bond has to weed out all the plot, the double-crossing, and so forth, with the help of Vijay (Vijay Amritraj). He encounters Kamal's virtually silent henchman, Gobinda (Kabir Bedi), Kamal's paramour Magda (Kristina Wayborn), and Octopussy's league of hot trainee girls.
Bond has to fight atop trains, planes, and yes, in automobiles in this one. Wayborn pulls off a stunt that will cause (has caused) noticeable arousal in men everywhere with her flip off a balcony using a sari that unravels on the way down to leave her only in a bikini.
I liked Octopussy a hell of a lot better than the previous For Your Eyes Only, and the ridiculous action actually works here because it makes some sort of logical, non-contrived sense. But the plot is also really confusing, way more complicated than it needed to be. Overall, though, it's a good addition to the series.
Follows: For Your Eyes Only
Next (depending on your view of legitimacy): Never Say Never Again or A View to a Kill
Write a comment
You must be logged in to post a comment.