Movie Review: Dreamgirls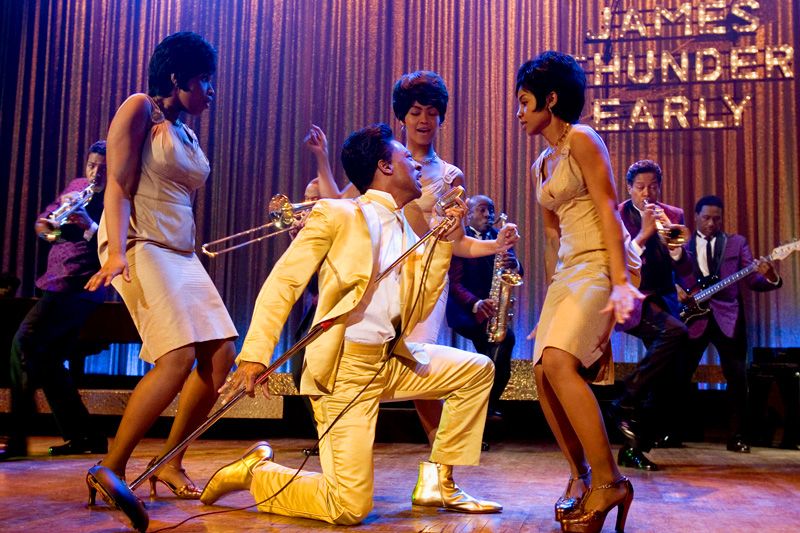 Dreamworks/Paramount
I have watched this movie twice now, and…and…well, I'm still not sold on it.  Though it cooks at the beginning, the story itself is marred with disappointing turns.  I stand by this original review for the most part, because as storytelling it fails for me.  Good numbers; can be exciting, but I'm just going to have to be a minority on this one.  Original review: 
Dreamgirls is a perfect movie to discuss the odd workings of criticism and opinion.  Looking back at some of my reviews from the past year, I've been guilty of giving movies the benefit of the doubt for various reasons, and in some ways I wish I could go back and erase certain things (and it works for negative reviews as well).  Most movies, I will always argue, are neither good nor bad.  On occasion, I've sniped at good movies for bad scenes (The Departed), I've elevated a lukewarm movie with good scenes (I'm just going to say it, Flags of Our Fathers).  In this exercise of criticism, I hope to continue to evolve, to be more concise, to say exactly what I feel.
I am, of course, not the only moviegoer/critic who does this.  Dreamgirls is a crowd-pleaser and most people are probably going to come out saying, "I really liked that."  And I can absolutely see why this movie will resonate with many.  But folks, I hated Dreamgirls.
Singing trio The Dreamettes, led by the voice of the group, Effie White (Jennifer Hudson), flanked by the hottie Deena Jones (Beyonce Knowles), and able filler Lorrell Robinson (Anika Noni Rose), are looking for their big break.  They find it backstage at a talent show as would-be manager Curtis Taylor, Jr. (Jamie Foxx) scores a back-up singing gig with performer Jimmy "Thunder" Early (Eddie Murphy). 
There's a honeymoon period where everyone likes and respects each other and everyone is a big happy family.  Early, who is married, begins an affar with Lorrell, and Taylor starts dating Effie.  But when Taylor and Effie's brother Clarence White (Keith Robinson) figure The Dreamettes could break from Early and appeal to white audiences with Deena singing lead, a whole lot of conflict comes into play, leading to the Big Scene that everyone is going to love, Jennifer Hudson's raw, powerful performance belting out "And I'm Telling You I'm Not Going," the turning point of the film.
It's this performance, and Jennifer Hudson's overall in general, that probably sells the entire movie for most.  It's a scene so spectacular that it tends to do that.  "How could anyone dislike a movie with this in it?" it begs.  More importantly for the review you are reading right now, how could I dislike it?
First off, the movie is all over the place, scene-to-scene.  Emotional resonance is impossible with such a setup.  Even this Big Scene I refer to in the previous paragraph isn't truly earned, because Effie is such a selfish character I never felt that she was a part of the group anyway.  And the supposed romance between she and Taylor was never believable.  Jamie Foxx pretty much annoyed me throughout, not because his character is such a prick, but because he's such a humorless prick.  He's one-dimensional.
Eddie Murphy has been getting Oscar buzz for his performance, amazing considering the man disappears for what seems like eons in the middle of the picture.  I never got a feel for his character, so when his character comes to a critical point later, I didn't feel the impact.  And I'm not even going to dig deep into the total waste of Beyonce Knowles, who by the time she gets her big scene, I realized how much of a non-character she is.
And on occasion, the movie has a hard time figuring out if it's going to be one of those "break out into song out of the blue" musicals, or "songs only come when songs are actually sung" musicals.  It leads to unintentional laughter or discomfort when all of the sudden Hudson starts singing her arguments; just unintentionally funny when Foxx breaks out into song under any circumstance.
So I can report that Hudson and Murphy deserve their hype (although an Oscar for Murphy's performance? Well, lesser screen time has won before), but the movie doesn't.  It builds no narrative momentum.  You can have an idea of what the circumstances of the movie are and then all of the sudden, the movie jumps in time or just plain goes to the next scene with all sorts of new information (the Effie/Taylor relationship being the big "what?" moment of the picture).
In the future, I hope to continue refining my critical style to the point that I feel good about what I've written, instead of feeling like I've made some mistakes.  Maybe one day I'll look back on this review and wonder if I was snorting something.  As of now, I know I'm not.  Outside of a couple of scenes, Dreamgirls wasn't all that fun.
Comments
Write a comment
You must be logged in to post a comment.