Movie Review: Out of Africa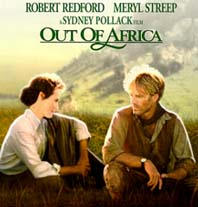 Universal, 1985
And with so many stories, where is the story?  Out of Africa is one of those wrong-headed Best Pictures, one that probably got swept up in the "We Are the World" madness of 1985, not to mention Hollywood royalty onscreen with Meryl Streep and Robert Redford.  Sydney Pollack, a highly respected director whose last film was 1982's monster hit Tootsie, nailed two Oscars as director and producer.
I'm not going to say this movie is bad; in fact, much of it is good, but without a story I can sink my teeth into, it falls flat for me.  Good performances, well-shot locales, interesting characters, again, do not make a movie that is a complete experience.
During World War I, Karen Blixen (Streep) marries her former lover's brother Bror (Klaus Maria Brandauer, who got a Supporting Actor nom), a friend of hers, basically as a business partnership.  They move to Tsavo, Kenya from Denmark with the idea of opening a dairy; but Bror changes his mind to grow coffee, a risky endeavor in the region.  Karen stays at home, with a local tribe of workers at her aid, while Bror goes out hunting.  It is, of course, a loveless marriage.
Blixen befriends Denys Hatton (Redford) and his partner Berkeley (Michael Kitchen), and after what seems like an eternity, Blixen and Denys start falling for each other as they explore Africa together.  The conflict?  Well, Denys doesn't want to feel tied down, and Blixen, though fiercely independent, does.
The movie is well photographed, and Meryl Streep is awesome, as you would expect.  Redford gives his usual professional performance.  Both characters are complex individuals, but they might as well be on the moon.  Africa is a great backdrop for adventure, and we see episodes of excitement here and there, but it's too episodic.  It could have used some dire conflict hanging over their heads for the whole movie.  Instead, there are times the story is at a complete standstill while it figures out what to do.
Nominated for that magic Academy number of 11 awards, it took home 7.  Streep, who had won 2 Oscars already and had been nominated for her 6th total, lost to Geraldine Page (The Trip to Bountiful). 
I'm betting if a vote were taken today, Steven Spielberg's The Color Purple would beat Out of Africa in a landslide.  For my personal tastes, Peter Weir's Witness would have also beaten this.  Other films that year were John Huston's Prizzi's Honor and Hector Babenco's Kiss of the Spider Woman.  I haven't seen either of those, but I hear Prizzi's was pretty damn good, and William Hurt won Best Actor for Kiss.  But here again, we have the Academy choosing that movie that fits all the criteria: it's an epic drama, critically acclaimed, dynamic performances, and a hit.  It's hard to believe the Academy once snubbed Spielberg as they did, because The Color Purple had those very same things.
Write a comment
You must be logged in to post a comment.