Movie Review: The Spy Who Loved Me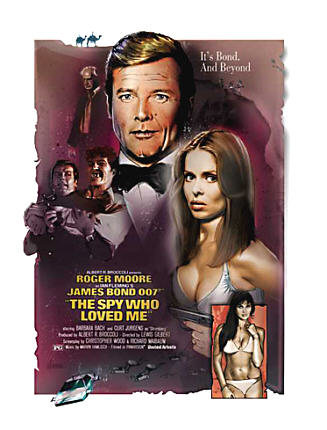 United Artists, 1977
Bond hit double digits with The Spy Who Loved Me. The tenth film in fifteen years, Roger Moore returned for the third time as 007, fully establishing himself in the role. Also returning was Bernard Lee as M for the tenth consecutive time, along with Lois Maxwell as Miss Moneypenny (her tenth), and Desmond Llewelyn as Q (his eighth). Production designer Ken Adam, who had been absent since 1971's Diamonds Are Forever, returned for the sixth time, and Richard Maibaum collaborated on his eighth Bond screenplay. Director Gilbert would take on his second Bond adventure in ten years after You Only Live Twice. This would be the first time producer Albert "Cubby" Broccoli would be without partner Harry Saltzman, who fell into financial trouble and sold his share in the franchise. Also, while this movie shares its title with an Ian Fleming book, it has little to do with the original story.
And, one of the most famous Bond theme songs is here, with Carly Simon's "Nobody Does It Better."
The Spy Who Loved Me is generally considered Roger Moore's best Bond flick, and this is almost indisputable. It has all the classic elements; good action scenes, a megalomaniacal villain, hot women, and a good story, which is usually lacking in the lesser Bonds.
In the pre-credit sequence, Bond dispatches Russian agents in Austria, including the lover of agent Anya "Agent XXX" Amasova (Barbara Bach), who he must team up with in the matter of missing Russian and Allied submarines. The story is similar to You Only Live Twice in that the main villain, Karl Stromberg (Curt Jurgens), is heisting the vessels in order to extract nuclear weapons. Only, this time the intention is to wipe out the landlubbers and create a real Atlantis, this in the form of an enormous oceanic station.
Also appearing is the highly popular secondary villain, Jaws (Richard Kiel), a giant, indestructible man with metal choppers who kills vampire-like. He is the only similarity retained from Ian Fleming's novel, a book that did not feature Bond prominently and was therefore never intended to be a Bond picture. His name was Horror in the novel, and it was likely changed for not only legal reasons but, no doubt, as a reference to Jaws, the mega-blockbuster released two years prior.
The film is classic, with interesting interplay between Bond and Anya, especially when Anya figures out that Bond killed her lover and vows revenge after the current mission. It adds a bit of zest to Bond's usual collaborations. Stromberg is a welcome return to the over-the-top villain after it was abandoned in The Man with the Golden Gun. And Jaws adds a horrific touch to the franchise, although down the road he becomes a source of humor (especially in the next film, Moonraker) and while it is indeed funny all the scrapes he survives, his presence becomes a non-threat; I've decided that while it works here, the natural evolution to comic relief in the next film becomes misguided.
Once again, Ken Adam's production design likely inspired everyone around him; once a director and actors know they are going to be working in places like these, they have to bring their "A" game, and they did.
Follows: The Man with the Golden Gun
Next: Moonraker
Write a comment
You must be logged in to post a comment.