Movie Review: Amadeus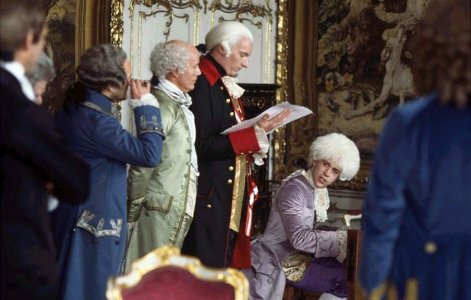 Warner Bros., 1984
Milos Forman was no stranger to the Oscar before Amadeus, a film nominated for 11 and went on to win 8, including Best Picture.  His previous One Flew Over the Cuckoo's Nest and Ragtime were nominated for 17 combined, for a grand total of 28 to this point.
What I gather from Forman's work, whether it be Cuckoo's Nest, Amadeus, The People Vs. Larry Flynt, or Man on the Moon, is that he takes a subject who is either mad, a genius, a mad genius, and casts him under a new light.  Three of those four are based on real people; there's a bit of Andy Kaufman in Randle Patrick McMurphy, a little Amadeus in Larry Flynt, and so on.  Controversial individuals who we may indeed find souls beyond the exterior.
In the 18th Century, Wolfgang Amadeus Mozart (Tom Hulce) is making waves in Europe, becoming sought-after for his "very new" compositions that anyone with an ear can tell are genius.  But with genius, comes jealousy.  The story is told through Austrian kapellmeister Antonio Salieri (F. Murray Abraham, who took the Oscar over Hulce in the Best Actor category), a composer believed to have had a rivalry with Mozart and perhaps some believe, may have killed Mozart.
The movie's framing device is the older Salieri "confessing" to a priest about what really went down back then, telling him about how he respected Mozart and thought he was a genius, but the man himself was a giggly buffoon.  Salieri believed God would one day make him a musical legend as Mozart would become, and did everything he could to make God happy, but felt that God let him down in that such a ridiculous person be the Chosen One of composers.  Salieri then decides to become Mozart's enemy behind his back, while being a friend to his face, something that is given a great amount of symbolism during the movie.  Salieri compares Mozart to God and shuns them both, but respects them both.
Mozart starts declining in health as he tries to balance his wife Constanze (Elizabeth Berridge), a new child, making compositions for no money and hardly any glory, as his work is believed to be in disfavor by Emperor Joseph II (Jeffrey Jones), and a party-hard nightlife.  The man does nothing but work all day and party all night.
At first, Amadeus seems to make Mozart just a buffoon with genius, but it takes an interesting turn to rounding his character when Salieri vows to be his enemy.  He becomes a more sympathetic figure, one we can root for; and in turn, Salieri becomes more interesting as well.  This yin-yang becomes the blueprint for the film, and it is well laid out by Forman, in what I think is my favorite of his films.  Many of the biopics today, even ones that use dramatic license, don't seem to have anything compelling to say, no story to back it up.  This movie is entertaining as hell; not stuffy and boring like many costume dramas.
I'll admit I'm not too familiar with 1984's crop of Best Picture hopefuls.  Amadeus beat out Roland Joffe's The Killing Fields, the only other nominated film I've seen, David Lean's A Passage to India, Robert Benton's Places in the Heart, and Norman Jewison's A Soldier's Story.  But looking at the descriptions of those other films, it's easy to see Amadeus was the big, Oscar epic of the year.
Comments
Write a comment
You must be logged in to post a comment.