Movie Review: One Flew Over the Cuckoo's Nest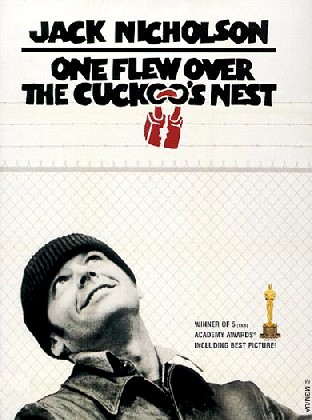 United Artists, 1975
One Flew Over the Cuckoo's Nest is filled with behind-the-scenes intrigue; how director Milos Forman and star Jack Nicholson didn't get along, how Ken Kesey was upset that the movie version of his novel didn't keep the first-person perspective of Chief Bromden (Will Sampson) and vowed never to watch the movie because of it, and even credited cinematographer Haskell Wexler was replaced by Bill Butler because of creative differences with producer Michael Douglas (far from being a big acting star at that time, but being the son of Kirk helps) and Forman.
All that, and the movie swept all five major Oscars: Best Picture, Director, Adapted Screenplay, Actor, and Actress (Louise Fletcher).  It was nominated for four others, including both Wexler and Butler together, and a young actor by the name of Brad Dourif got a supporting nom for his first ever big role.
Cuckoo's Nest involves convict Randle Patrick McMurphy (Nicholson, already considered a bit of a nutjob) being sent to a mental institution for his antisocial behavior.  Here, he will be evaluated and found sane or insane, since many think his behavior is an act.  He is thrust into the middle of a bunch of crazies, many of them actually voluntarily checked-in, including Martini (Danny DeVito), Taber (Christopher Lloyd), Frederickson (the sunken-eyed Vincent Schiavelli), Billy Bibbitt (Dourif), Harding (William Redfield), Charlie Cheswick (Sydney Lassick), and the non-speaking Chief Bromden (Sampson) to name a few.  They are ruled by the law and order Nurse Ratched (Fletcher), who doesn't seem to have any emotion at all.
McMurphy tries to get his fellow crazies excited about things, so he orchestrates several shenanigans involving escape, or voting for the hospital to watch the World Series, or sneaking women in for a party; the sort of thing he considers therapy above discussing feelings and getting no emotional interplay from those who are supposed to help.  His actions versus the hospital's rules are the central conflict, and the movie doles out the victories with the proper consequences.
All in all, One Flew Over the Cuckoo's Nest is just one of those great movies where every scene is entertaining.  Nicholson during the seventies is as good as it gets, but he is ably surrounded by an army of actors who would become well-known.  Fletcher's performance is iconic, and Dourif's performance deserved mention, but I thought Redfield and Lassick also deserve praise; I guess you can only hand out so many nominations.  Also making an appearance in this film is Scatman Crothers, who would later re-team with Nicholson in The Shining.
Cuckoo's Nest beat out an incredible list of films.  Robert Altman's Nashville is probably the best of the bunch (even this one), and I think I even prefer Spielberg's Jaws to this, not to say Cuckoo's Nest isn't worthy.  After that, you might have quite a few say Sidney Lumet's Dog Day Afternoon is their choice.  One of Stanley Kubrick's lesser-known films Barry Lyndon rounded out the five.  All of them are good choices, Cuckoo's Nest obviously got the nod for having most of the general elements of winning Best Picture in its corner: it was a drama, it had dynamic performances across the board, it was a crowd pleaser, and it was critically praised.
Milos Forman would later direct Amadeus in 1984, and this picture would also win tons of awards.  That review coming soon.
Comments
Write a comment
You must be logged in to post a comment.