Movie Review: Night at the Museum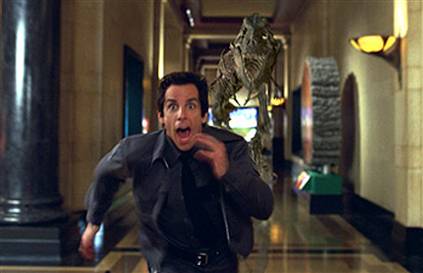 Fox
Levy becomes the fourth and final member of the 2006 2-movie club, joining Justin Lin, Richard Linklater, and Clint Eastwood.  His other film this year is The Pink Panther.  The screenplay for this movie was written by Reno 911 co-creators and stars Garant (who plays Travis Junior) and Lennon (Dangle).
I've been interested in seeing Night at the Museum for awhile now.  It looked like a good special effects comedy, which you'll read from many reviewers is nearly impossible to do, citing Ghostbusters as the exception to the rule that everyone in this genre tries to emulate.  This is true.  I generally think special effects take over any comedy, and with actors responding to a green screen much of the time, there isn't much to inspire spontaneity.
Larry Daley (Ben Stiller) is a divorced dad, unable to keep a job, having a hard time being a role model for his son Nick (Jack Cherry).  His ex-wife Erica (24's Kim Raver) is about to get married to an always-busy cell phone whore named Don (Paul Rudd in a pretty funny cameo).  Larry's situation threatens to keep him away from his son (just for awhile; Larry and Erica are very cordial, which is a relief), so he goes to the employment office hoping to come up with something that can keep him in Manhattan rather than moving to middle-class Queens.
The job is the night guard duty at the Museum of Natural History, looking for one man to replace three (Dick Van Dyke, Mickey Rooney, and one of my favorite older character actors, Bill Cobbs, the clock worker and narrator in The Hudsucker Proxy).  They absently give him a user's manual, not telling him that the displays in the museum come to life at night.  So, he has to deal with a skeletal T-Rex, the Huns, figures from the wild west (Owen Wilson), and from ancient Rome (Steve Coogan), not to mention a cheeky monkey named Dexter, a bunch of lions, a wooly mammoth, and perhaps finding a way to get Theodore Roosevelt (Robin Williams) and American frontier icon Sacajawea (Mizuo Peck) to make sweet conversation.  On top of that, he has to worry about how all the damage that is done in one night reflects on him to his boss Mr. McPhee (a very funny Ricky Gervais).  Be assured that he's constantly on the chopping block.  Oh by the way, he's got a spectacular love interest in Rebecca (Carla Gugino), whom by the end of the film he must impress.
There is more to the story, which I won't discuss here but I thought bogged it down.  I thought it could have simply been Ben Stiller trying to cope with successfully making it through the night but making interesting missteps along the way, kind of a non-deja vu Groundhog Day.  As is, it's a fun movie and I recommend it for every family to go see; just know, it could have been a lot better.
As a side note, having recently visited the Museum of Natural History, the small size of the movie's set version is pretty laughable.  It would, of course, be an impossible task to recreate the scale of the MNH, a building that will have you walking until you curse whoever invented walking, which will inevitably be around the time you stop for a rest around the cavemen.
Write a comment
You must be logged in to post a comment.