Movie Review: Stranger Than Fiction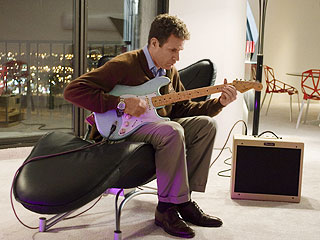 Sony
Movies like The Truman Show, Being John Malkovich, and Adaptation have a theme in common.  They all explore personal boundaries in some way or another, whether it's someone manipulating those boundaries or it's someone trying to box a person into a type (through writing, or through a carefully constructed world) and failing.  In the end, only you know who you are and of what you are capable.
Zach Helm's debut script Stranger Than Fiction, which started a bidding war in Hollywood, enters into the clique with a premise I certainly thought was going to be one-joke and tired even before the first act completed.  And, at first, I thought I was going to be absolutely correct.  For the first fifteen minutes, this movie is pretty much what the trailer says it is.  IRS man Harold Crick (Will Ferrell) suddenly starts hearing a voice of an author, Karen Eiffel (Emma Thompson), who is narrating his life in exhaustive detail.  Being painfully accurate, Eiffel's intention to kill Harold Crick in her novel becomes a source of stress…for both parties.
Crick, with the help of a literary professor, Dr. Jules Hilbert (Dustin Hoffman), who believes Crick for the sake of argument, uses the idea of his death to begin to take chances.  He starts flirting with the cute baker he's auditing, Ana Pascal (Maggie Gyllenhaal).  He starts doing things he once shunned because his life was preoccupied with his job and wicked calculator brain, which crosses over into obsessive-compulsive territory at times.
On the other side of it, Eiffel's writer's block is giving Crick his chance at life, and she's just as neurotic, obsessed with death.  Her "cheerleader" is Penny Escher (Queen Latifah), sent by the publishing company to break Eiffel's horrible dry spell.  Of course, if she breaks out of it, Crick's demise is certain.  Therein lies the conflict.  One person's life is great as long as the other's is dismal.
The movie surprised me.  It's touching, especially when Pascal, who gives Crick a really hard time, starts warming to him.  And there's plenty of funny to be had; it's no one-trick pony.  But make no mistake, this movie has a lot of drama in it.  I wouldn't go as far to say this movie is a drama, but this is the first time I've ever seen Will Ferrell be truly sincere in many scenes.  He's very good.  And I've been in love with Maggie Gyllenhaal since Donnie Darko, but she's become an outstanding actress, so assured.  Emma Thompson, what can I say.  Film has missed her constant presence.  She's just always fantastic.  Dustin Hoffman has sort of found a strange Walken-esque niche in this stage of his career.
I'm not sure that this movie is for everyone; it requires some patience at times.  But it's more than rewarding.  I recommend.
Comments
Write a comment
You must be logged in to post a comment.