Movie Review: The Man with the Golden Gun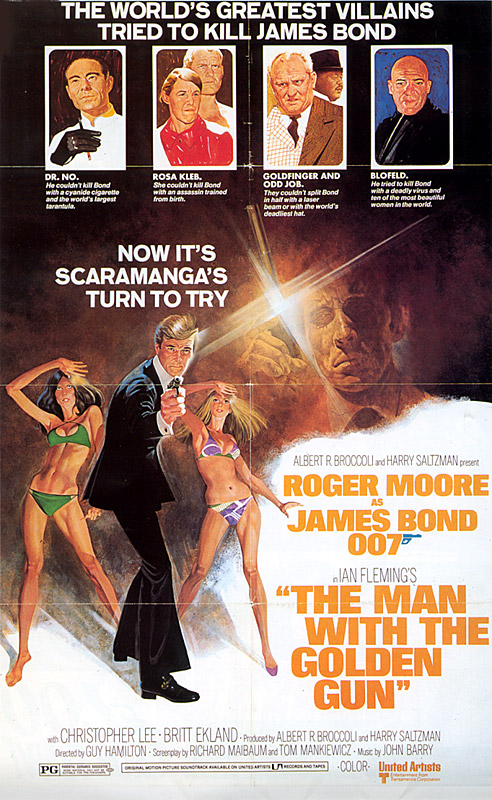 United Artists, 1974
There is some debate as to whether Ian Fleming actually finished this novel, which would have been his thirteenth of the Bond series, published posthumously. Roger Moore takes on Bond for the second time after Live and Let Die, and director Guy Hamilton would helm his third in a row, fourth overall, but also his last, of the series.
The opening sequence here involves the title character, Francisco Scaramanga (Ian Fleming's cousin, Christopher Lee, who was just finally starting to take a break from Count Dracula at the time), who like most Bond villains has some sort of unusual physical trait or malady; a superfluous third nipple. With the help of his little man Nick Nack (Fantasy Island's Herve Villichaize), he brings a would-be killer into his island lair, a house-of-horrors style complex, and kills him with a golden gun. Ominously, there is a wax makeup of James Bond in this house of horrors. We all know where this is going…well, if only.
First, Bond is once again being pulled off a case by M (Bernard Lee in his incredible Bond streak along with Lois Maxwell as Moneypenny, and Desmond Llewelyn also just one picture behind as Q) because a golden bullet with "007″ etched in it has been sent to headquarters, and he feels that the man with the golden gun wants to kill him, and he can't jeopardize an ongoing case. The ongoing case involves a "Solex Agitator" that creates tremendous energy using the sun. Don't worry, in the classic Bond style, the two cases are connected.
Bond goes to Macau and Hong Kong, initially looking for Scaramanga, because he thinks Scaramanga wants to kill him, but after strangely not killing him, more investigation is necessary. Bond runs into Scaramanga's squeeze Andrea Anders (Maud Adams), who fills in some of the blanks. Bond allies with Lieutenant Hip (Soon-Tek Oh), and hottie Mary Goodnight (Britt Ekland), and soon we find there's another bad guy, Hai Fat (Richard Loo), who has Scaramanga in his employ. Not for long, though.
This movie is lacking in action. It plays like a wasted episode of a television series. There is a neat stunt involving Bond taking a car up a winding ramp and jumping some water with a spiraling, death-defying jump, especially since today that stunt would be all digital, but that's nearly all you get. There's a lot of boring fistfights, something Peter Hunt was able to pull off brilliantly in On Her Majesty's Secret Service, but here the fights are yawn-worthy. Also, there's annoying recurring character from Live and Let Die, a Louisiana Sheriff J.W. Pepper (Clifton James), who as a tobacco-chewing redneck offers some real lack of charm to the Bond series. Luckily, he would be gone after this chapter.
But, what's more, I couldn't help but think that the "killing game" part of the story which bookends the movie was wasted with the whole middle of the movie. Christopher Lee deserved to be the bad guy all by himself the whole time, toying with Bond until the finale. Instead, there's a lot of junk to get through, and this is one of the lesser Bonds.
Follows: Live and Let Die
Next: The Spy Who Loved Me
Write a comment
You must be logged in to post a comment.