Movie Review: You Only Live Twice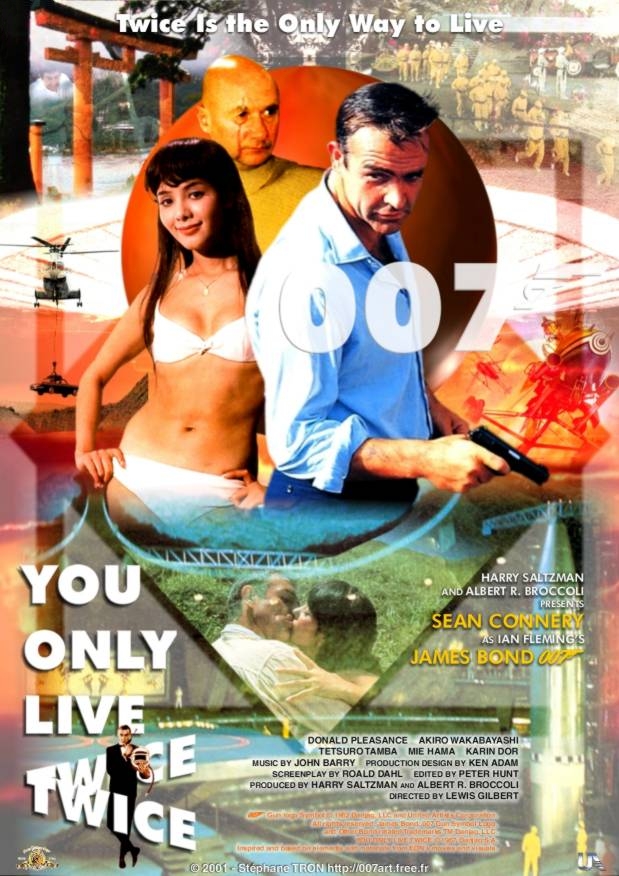 United Artists, 1967
Sean Connery returns in his fifth Bond film in six years, this time with third Bond director Lewis Gilbert (the original Alfie) taking over. You Only Live Twice is based on Fleming's last Bond novel, published in the year of his death, 1964. And look at that; wicked children's story writer Roald Dahl adapted friend Fleming's book.
This picture returns Bond to more spy-heavy, more intellectual adventures, after the action assault of the tiring Thunderball. It begins with Bond dying, much like From Russia With Love did, only this time, there's no fake mask to pull off and the movie leaves you with that during the opening credits, this time with a famous theme sung by Nancy Sinatra. It's not long, though, before we realize it is just a ruse. Bond is being sent to Japan to find the origin of a spacecraft that is swallowing US and Soviet shuttles and causing friction between the two countries, who think one another is behind it.
There, he meets Japanese superspy "Tiger" Tanaka (Tetsuro Tamba) and liason Aki (Akiko Wakabayashi). With their help, Bond begins being suspicious of an Osato chemical corporation, led by Mr. Osato (Teru Shimada) and his associate Helga Brandt (Karin Dor). It seems that the developments Bond discovers are pointing to a secret lair somewhere in a volcanic countryside, and that SPECTRE might be the true villain in all this. Tiger instructs Bond that he needs to "become Japanese," train with ninjas, and be covert by pretending to be on his honeymoon with Kissy Suzuki (Mie Hama).
Yes, many of the plot developments are pretty ridiculous and unneeded, but the movie is never not fun to watch. When Q (Desmond Llewelyn in his fourth straight Bond film) gives Bond a small helicopter armed to the teeth, it is an awesome contraption and is immediately sent into action against four other helicopters as Bond looks for the secret lair. The scene is great, but after it's over, no one seems to think that Bond's running into bad guys around the volcanoes is a possible clue to where the lair might be, and the helicopter, like many Bond contraptions, never shows up again after it is used.
The anonymous body count is pretty high in this one, too, but unlike Thunderball the action flows better, especially in the secret volcano lair that longtime Bond production designer Ken Adam produced for the then-astronomical sum of a million dollars. The sight of hundreds of ninjas descending into it on ropes is unforgettable.
This movie also shows us the face of Blofeld (Donald Pleasance), the cat-petting villain of SPECTRE who had merely been hand-modeled for From Russia With Love and Thunderball. His appearance, and his demands (this time, it's $100 million in gold bullion), became the basis for the Austin Powers movies. I couldn't help but think of this unique Hollywood irony: Donald Pleasance would go on to make Halloween as Dr. Sam Loomis, the former doctor of the purely evil Michael Myers. The actor Mike Myers would then eventually take over the Blofeld appearance as Dr. Evil in Austin Powers.
Anyway, You Only Live Twice is one of the best of the first five; I think it easily beats From Russia With Love and Thunderball. After this movie, Connery would not be Bond in the next flick, On Her Majesty's Secret Service, probably for every reason you could possibly think; I'd think one is having played the character five times in six years. Connery passes the torch briefly to George Lazenby before taking it back briefly for Diamonds Are Forever.
Follows: Thunderball
Write a comment
You must be logged in to post a comment.