Movie Review: The Santa Clause 3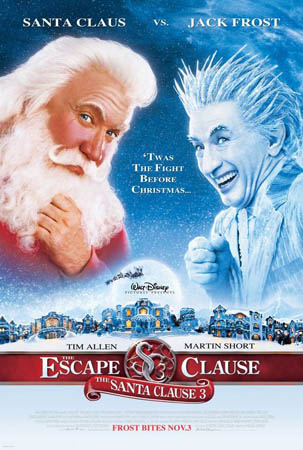 Disney
Look, I'm not going to be overly-critical on The Santa Clause 3, OK?  The best thing a family film can do is not be obnoxious, and the third film of a franchise that began way back in 1994 at the height of Tim Allen's Home Improvement days comes close to being that, but not so far that it's going to anger adults dragging their kids to see this during the holidays.
In this, Allen returns as regular guy Scott Calvin, who for twelve years now through a magical clause has been Saint Nick, and his beautiful wife Carol (Elizabeth Mitchell, reprising her role and having quite a year with this and Lost) has been Mrs. Clause through the magical "Mrs." Clause.  A baby is on the way, and for fans of the original, this is a mixed blessing because Scott was such a poor father the first go-around.  Scott gets along with his ex-wife Laura (Wendy Crewson, reprising her role from 1 & 2) and her husband Neil (Judge Reinhold, yep, reprising), and their biological daughter Lucy (Liliana Mumy), and of course, he's tight with his own son Charlie (Eric Lloyd; hey everybody came back).  This part of Scott's family is making a visit to the North Pole, along with Scott's in-laws (Alan Arkin and Ann-Margret), who don't know Scott's secret identity or his work.  Scott's advisor Curtis (Spencer Breslin) insists that he continue the ruse for security purposes, and they are led to believe that they are in Canada.
Speaking of which, Martin Short plays Jack Frost, a supreme being tired of Santa, Mother Nature (Aisha Tyler), Father Time (Peter Boyle), Cupid (Kevin Pollak), Easter Bunny (Jay Thomas), Sandman (Michael Dorn), and Tooth Fairy (Art LaFleur) getting all the spoils of being who they are, and plots to end Scott's reign as Santa through The Escape Clause, involving Scott's personal snow globe and reciting key words.  Frost's trickery leads to a North Pole theme park and money-grubbing most foul.  Interesting, this vision of Hell coming from Disney.
Hey, I liked the fact that the same actors play all the parts from the first two, the only notable missing person being David Krumholtz, who is replaced in spirit but not in name by Breslin.  The series has some consistency.  And it's a fairly enjoyable holiday film, even though the sticky sweetness of the movie can rot teeth, and it's not beyond allowing its reindeer to fart three times in one scene.
Ultimately, does it succeed in providing a soft-pitch story, with some decent entertainment, to families just looking to get out during the hustle-and-bustle of the shopping season?  Yes.  Is it the best family movie you can see this year?  Absolutely not.  Not even in the same weekend, actually–that's Flushed Away.  But Flushed Away doesn't have the same "spirit of Christmas" sell that this does, and more people will likely visit this G-rated movie than the superior, PG-rated one.  All in all, average, does it's job.  If you want to consider that completely positive, by all means, take your family to watch it.
Write a comment
You must be logged in to post a comment.