Movie Review: Flushed Away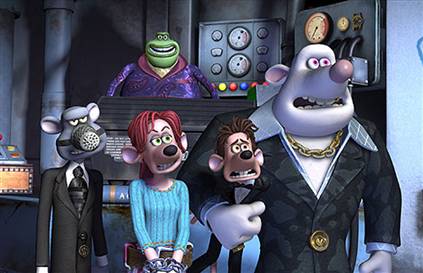 Paramount/Dreamworks
The other company behind this is Aardman Animations, best known for Wallace & Gromit, and this is why the buck-toothed claymated look of the digital Flushed Away is so familiar.  With many W & G collaborators working on this one, Flushed Away had a big chance to a big winner, and it is.
Perhaps, for this one year, someone has finally beaten Pixar.  While Flushed Away would be hard-pressed to make the money this summer's Cars did, the quality is certainly top-notch and it's hard to find any fault.  Much like Pixar, Aardman obviously believes in characters and story over visuals, even though those are top-notch.
Pet rat Roddy (Hugh Jackman) lives alone in what would be considered an extravagant mansion for one of his kind.  One day, an unwelcome rat named Spike (Andy Serkis) rains on his parade and bullies him around, trashing the place, eventually flushing Roddy down the toilet…to an incredible world built in the sewers built mostly by other rats.  There, he meets the captain of a sewet boat named Rita (Kate Winslet) and in the time-honored tradition of burgeoning love stories, she hates Roddy.  She and Roddy have some trouble with the villanous Toad (Ian McKellen), who has a master scheme involving the sewers.  Roddy makes a deal with Rita to get him back home in exchange for rubies that might help her extremely large family back home, but of course, the lonely Roddy might not want to stay on the surface after seeing what's down below.
Filled with a hilarious environment, Flushed Away is the most purely enjoyable cartoon of the year.  There are memorable moments throughout; the scene-stealing, screaming, slow-to-escape slugs will grab your heart and your funny bone.  There's a scene involving a frog mime that is completely ingenious.  This is the kind of movie that every film should aspire to be, especially the lackadaisical animated films I've seen this year.  A winner; go see it.
Write a comment
You must be logged in to post a comment.