Movie Review: Babel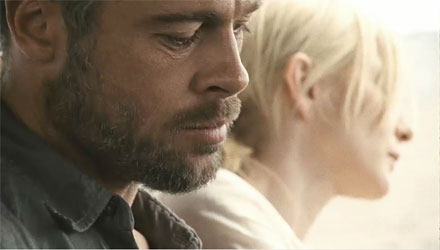 Paramount Vantage
How much should a movie pay off when it runs multiple, seemingly disconnected or loosely connected stories?  For me, I think it should pay big time, especially when this type of plot device often uses stories that are so uniquely disconnected that most of the fun is seeing how they all come together.  Babel, entertaining as it can be, does connect its stories, and though I was intrigued with the drama that those connections provided, I wasn't necessarily impressed with the weight of those connections.  In Inarritu's previous plot puzzle, 21 Grams, I didn't have those misgivings. 
The stories involve two American married tourists, Richard (Brad Pitt) and Susan (Cate Blanchett) in Morocco for some marital healing.  Back home in San Diego, their housekeeper Amelia (Adriana Barraza) looks after their kids Debbie (Elle Fanning) and Mike (Nathan Gamble).  In Japan, deaf-mute Chieko (Rinko Kikuchi) also deals with being a teenager and her mother's death, straining her relationship with dad Yasujiro (Koji Yakusho).
The series of events is set in motion with two boys in Morocco, handed a rifle by their father to kill jackals that might kill their herd of goats.  There is debate among the children about whether the rifle shoots as far as the man who sold it to their father claims, so they aim at cars on the road.  One of them is a bus carrying Richard and Susan; Susan gets hit, and suddenly there's an international incident with suspicion of terror involved.  Richard has to futilely find help for his wife in a town four hours away from a hospital, while the other tour bus riders want to leave.
Meanwhile, Amelia is given a call from her native Mexico that her son is getting married that day and the family needs her.  After trying to get other people to watch the kids while she's gone, she eventually has to call on her nephew Santiago (Gael Garcia Bernal) to drive her across the border with kids in tow.  Can anyone see what might go wrong here?
In Japan, Chieko is desperately trying to fit in, making herself an easy lay, or open to drugs.  She's acting out.  Why is she acting out?  Investigators want to speak to her dad about something.  What is it?
The film is compelling, well-made, and all the performances are top quality, but its payoff is only philosophical.  There are parallels between the characters, much like Paul Thomas Anderson's similar Magnolia, especially concerning parents and their children.  If you're looking for a grand, neat little bow tied to all of these stories, you won't find it.  I liked the film, but what keeps it from being great is promising something grand and not delivering.
Write a comment
You must be logged in to post a comment.