Movie Review: Running With Scissors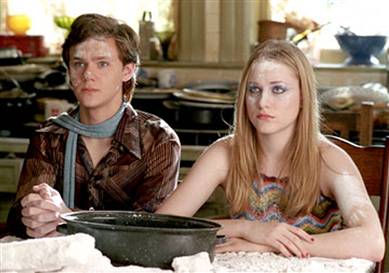 Sony
Ryan Murphy has shown instinct for portraying a family unit that is more dysfunctional than the Addams Family, and maybe finding a little ray of hope in the otherwise pitch black proceedings, with his hit FX series Nip/Tuck.  Beyond all of the anything-goes plotlines that N/T provides each episode, the heart of the series lies in the fragile relationships between the main characters.
So what better story for Murphy to tackle for his feature debut than Augusten Burroughs' memoir about coming out gay and living with his mother's shrink at the shrink's own dysfunctional household?  Memoirs are the poor-man's autobiography, and this kind of book is the literary brethren of the film industry's biopic, a genre that rarely translates into a blow-your-mind movie experience.  Also, with James Frey's Million Little Pieces bringing the memoir to scrutiny, what exactly are we to believe about any one person's crazy-ass life?  Even if the events are essentially true, the story still probably lacks something; memory has often proved not to be totally reliable.  Hell, this movie even says, "It doesn't matter where I begin, you won't believe me anyway."
And so this is the way Running With Scissors plays, an episodic million little pieces of one man's life.  Augusten (Joseph Cross, having quite a month with this and Flags of Our Fathers) grows up under the guidance of his wannabe poet mother Deirdre (Annette Bening, as always, getting Oscar buzz) and his alcoholic wants-to-mean-well father Norman (Alec Baldwin).  His parents inevitably split, and mom starts seeing Dr. Finch (Brian Cox), a rough-edged fellow himself who blindly prescribes drugs to Augusten's increasingly distant mom, who eventually gives him up to Finch for adoption.
Finch's mansion is a dilapidated pink monstrosity with loads of junk in the front yard, and there lives his daughters Natalie (Evan Rachel Wood) and Hope (Gwyneth Paltrow), and a given-up wife Agnes (Jill Clayburgh, who steals the movie).  Augusten lives his awkward teen years in a extraordinarily permissive environment, and during this time finds his first love with Neil Bookman (Joseph Fiennes), also a former patient of Finch's.  Meanwhile, mom is getting more and more messed up on the drugs, exploring same-sex avenues herself, and losing out on her once-strong relationship with her son.
The movie is just a bunch of crazy instances all balled into one, but there are touching moments that elevate this beyond your usual nuthouse fare.  Scenes with Augusten and Agnes are the best; I don't know how Burroughs' memoir goes but if Agnes is like Clayburgh's character then he should have spent more time with her. 
Instead, there's a lot of nonsense concerning Natalie, and Neil, and Augusten's mom going crazy in that Oscar-lovin' way that feels phony.  As much as Bening finds good moments, real heartfelt moments in her character, it's all too self-aware in many instances.  In fact, all the crazy can-you-believe-this stuff is all too knowing.  Why being self-aware is bad for me concerning this is that I never feel like the characters believe what they are doing is sane; the epitome of crazy is to do something off-the-wall and not give a hint that it is, and that other people are crazy for thinking it's not.
So this flick didn't sell it to me.  It pays off in places, but not overall.
Write a comment
You must be logged in to post a comment.