Movie Review: Flicka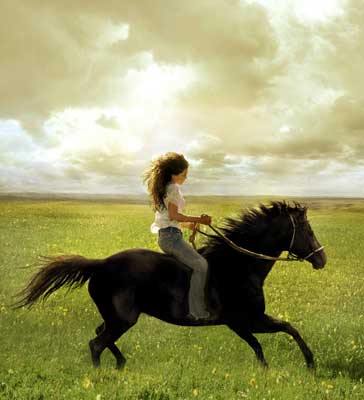 Flicka
Directed by Michael Mayer
Written by Mark Rosenthal and Lawrence Konner based on the book My Friend Flicka by Mary O'Hara
Fox
Ahh, the beloved family horse movie where a young girl becomes a woman. Movies like these are comforting in a way, approaching the simple life and the wide open spaces, far away from troubles in Iraq or senatorial internet predators or Paris Hilton.
Katy McLaughlin (Alison Lohman) goes to private school but daydreams of running her father's ranch, so much so that her schoolwork has suffered and it threatens to hold her back a year. Tough but kind dad Rob (Tim McGraw, playing a softer version of the dad he played in Friday Night Lights) doesn't know how she or anyone else really feels because they are scared of him. Her brother Howard (Ryan Kwanten) is the wannabe scholar of the family, although he's being pushed into the ranching. Meanwhile, mom Nell (Maria Bello) provides the passive, yet strong, feminine presence and is the glue of the family.
One day, Katy sneaks out of the house on horseback and rides around the countryside, stumbling onto a lion and a wild mustang. She wants the mustang badly, pleading with her father to rope it in so she can tame it. Of course, this is a no go, they're dangerous, this isn't what she's meant to do, so forth. But, eventually, yes, the mustang is roped in, much to the discontent of dad, who tells Katy is not to be touched while it stays at the ranch. Fat chance.
Katy then tries the long, arduous task of trying to tame the horse. Eventually, her activities become known, and dad sells the mustang to a buyer (Nick Searcy), and Katy has to figure out a way to get the horse back through more disobeying and risk.
It's a good movie. No getting around it. It's not here to break new ground, it's just a heartwarming girl-and-her-horse story. This is becoming a common thought: Maria Bello is great. I once thought this actress was never going to get a break, but now she's a go-to performer. Country star McGraw is also appealing; I'm not sure we'll ever see him play much other than the demanding father, but he's good at it.
Alison Lohman is also good, blending into the main role. Even at 27, she looks and acts the part. All-around family goodness.
Comments
Write a comment
You must be logged in to post a comment.