The Apparition: Let's Break It Down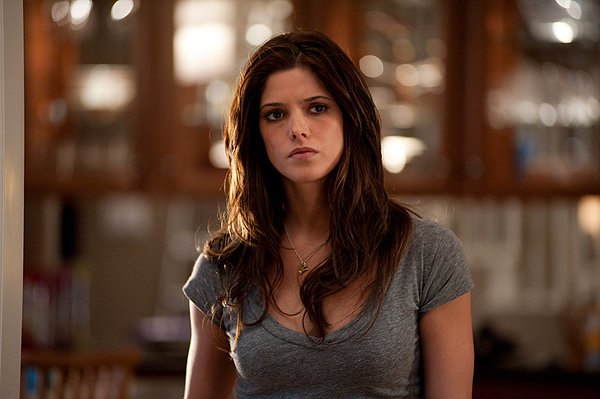 The Apparition
Written and directed by Todd Lincoln
Warner Bros., 2012
The Apparition is not only one of the worst of the year, it's one of the worst movies I've seen in a long time.  Sure, I don't watch "everything" anymore like I used to, I often miss some movies that are clearly going to be a waste of my time, but it's been awhile since a horror movie came out (although we're about to get deluged by them in the next few weeks) so I decided to give this a try.
I think if I gave this another view, I could really nail down what it is about this movie that is particularly awful.  This is a movie that doesn't necessarily have any overtly awful scenes, but the structure of it is always wobbly, patched together, and quite obviously edited to death.
Kelly (Ashley Greene) and her boyfriend Ben (Sebastian Stan) are about to move into Kelly's parents' like, retirement home, or something, built in one of those brand new neighborhoods where only a few people live at the moment.  Then weird stuff starts happening.  Sounds, stuff moving, dogs dying…the usual.  Turns out, Ben was a part of a college experiment with his buddy Patrick (Tom Felton) a few years ago where they were trying to summon an apparition and apparently that apparition has made it to the other side, and is now fucking with everybody.
This is the sort of thing I generally hate in bad horror movies: the apparition, ghost, monster, or whatever, is there to play pranks or generally make themselves a nuisance.  What do they want?  Well, it's pretty clear from the get-go that it wants to kill things, but instead of just doing it, which it clearly has the power to do, it prefers running from one place to another really fast somewhere off-screen with the requisite "swoosh" sound effects or it rearranges furniture or cooks a bad breakfast because it's not only an evil spirit, it's a dick too.
There are numerous problems with the characters, which aren't really characters.  Hey–you know what would be more interesting than this couple?  Two shadows who don't speak to each other and just float around for an hour and a half.  When Kelly and Ben talk to each other it sounds like patches of the script were copied and pasted into the movie from Microsoft Word: lots of words, but no natural flow.    There are plenty of head-scratching moments: Ben leaves evidence of his deepest, darkest secret lying around in the garage, the movie has nothing to do with what it says in the trailer (once you believe in the apparition, you die, is nonsense), and there's one point where Kelly proclaims, "I'm not spending one more night in that house!" and then proceeds to spend more nights in that house.
But all that might be the least bit forgivable if there were any scares at all.  Not once is this movie interested in imagination to generate fright.  Each "scare" is a just-so-happens moment, with no build-up, no tension.  I mean, if this happened in real life the way it happens in the movie, you might remark to your wife, "Oh look, dear, it appears we have a spirit of some sort wandering about," before sipping your brandy and returning to your National Geographic.
But I think, ultimately, I just don't like ghost stories where the evil spirit has all this power and then decides it's best used for pranks and general fuckery, and we're not in on the joke.  I truly walked out of this movie thinking, "I don't think even the most accepting critic could like this," and the current 0% on Rotten Tomatoes proves that.  It's a mystifyingly bad experience.
Comments
Write a comment
You must be logged in to post a comment.