Five Year Engagement Suffers From Horribly Forced Humor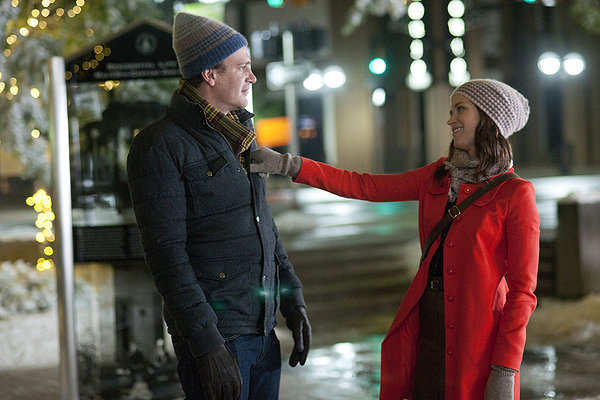 The Five-Year Engagement
Directed by Nicholas Stoller
Written by Stoller and Jason Segel
Universal, 2012
Back in 2008, Jason Segel and Nicholas Stoller collaborated on Forgetting Sarah Marshall, which has become one of the most beloved non-major-box-office-hits of the last 5 years.  That movie was gold, containing much of the style of humor that put Judd Apatow in the lead of comedy producers this past decade.  Stoller and Segel would go on to collaborate on Get Him to the Greek and The Muppets, and they definitely form a winning team in that regard.  Here they re-team with Apatow as producer.
But The Five-Year Engagement is a misstep.  It's full of comic talent and they can, on occasion, be winning.  This movie plays scenes at a heightened pace that make it seem like something really, really funny is happening…but you know what I kept thinking during these scenes?  That 2001 episode of The Simpsons called "HOMR" when doctors find a crayon in Homer's nose lodged in his brain and once extracted, he becomes smarter than average.  Towards the end of the episode, he watches a Richard Gere-Julia Roberts movie that everyone is laughing at except him.  The situations in that fake Gere-Roberts movie are what I thought of during The Five-Year Engagement.
Tom Solomon (Segel) is madly in love with his girlfriend of a year, Violet Barnes (Emily Blunt).  He proposes and she says yes.  Things are great: they live in San Francisco and he's an emerging chef.  But then Violet gets accepted into a University of Michigan post-graduate social psychology program, and Tom decides for the better of the relationship, he'll move to Michigan with the love of his life, putting off the marriage for a couple of years.  Violet quickly gains favor under Professor Winton Childs (Rhys Ifans), probably because he's attracted to her.
Violet's career keeps moving along a fast track, and the wedding keeps getting postponed, which means everyone else around them is changing: Tom's friend Alex (Parks and Recreation's Chris Pratt) is settled down with Violet's sister Suzie (Community and Mad Men's Alison Brie) and has kids, the grandparents on both sides of the family are getting picked off by Death one-by-one (the grandparents are led by Animal Kingdom's Jacki Weaver), and Tom's cooking career is on no track at all, being confined to a sandwich shop that is a local favorite but far from the "serious" cooking Tom would like to do.  The career tracks between the two cause problems.
And then comes those weird situations where the drama gets heightened, and Stoller/Segel feel the need to throw a joke in at the last minute, causing a strange situation where they don't build the necessary comic tension to make the jokes pay off.  In another movie, so many of these jokes might work.  I found Jason Segel's chase after Rhys Ifans through a traffic-filled street particularly unusual under these circumstances.  Many times the situation seems serious, then something comes in that is a joke–my brain recognizes it as such, but in comedy, as they say, timing is everything.
We get occasional bursts of brilliance here and there.  Brian Posehn makes an appearance and says a lot of inappropriate things, Chris Pratt works that blissful dummy character he's known for on Parks and Recreation really well, but the movie could use a lot of trim.  The situation that has been built up for Tom and Violet is much too heightened for the kind of comedy they want to present, some of the same issues that came up in Apatow's Funny People: you can't put characters in a situation that isn't inherently funny and then expect comedic gold.  The situation they are in has nothing to do with a whimsical set of circumstances, there's no "underdog," there's no real antagonist creating problems.  Despite Emily Blunt and Jason Segel looking like they get along in real life, they don't exactly look like lovers, so why should we care that they stay together?  The movie might have been better by just getting them married in the first place, having kids, then having to deal with all the career problems later, maybe forcing Don's character into a Mr. Mom situation.
As is, the comedy is…Don losing his mind a little?  Outside from the ancillary characters who make their jokey appearances, Don is the only one responsible for generating laughs.  It certainly isn't Violet's movie.  While occasionally she has a line or two, every situation she's in requires support from other characters to try to make her scenes funny, like she's still important in this movie, which is a horrible thing to do to an actress as awesome as Emily Blunt, who stole her scenes in The Devil Wears Prada and arrived on the scene with that performance.  But men writing for women has always been a classic bugaboo for Hollywood.
I expect many people will take an opposing view with this movie, but for me, it was pretty awful.
Write a comment
You must be logged in to post a comment.