War Horse: I Am Not Made Of Stone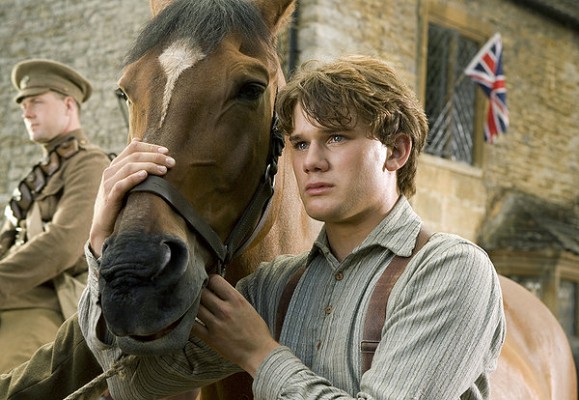 War Horse
Directed by Steven Spielberg
Written by Lee Hall and Richard Curtis from the novel by Michael Morpurgo
Disney/Dreamworks, 2011
Steven Spielberg's War Horse, being released on Christmas Day and is only the second film from Spielberg in the past week (the animated Adventures of Tin Tin came out Wednesday), posed a really good question for me concerning the year of 2011.  From what I'm reading, it will be down to the silent film The Artist (which I haven't seen) and the very good, but seriously? Moneyball.  If I ever get the chance to see The Artist maybe I'll stop scratching my head.  War Horse is exactly the type of movie that traditionally wins Best Picture.  I'm not saying it's even nearly the best movie I've seen this year (I'm still mulling over this year), but Steven Spielberg has made a movie that is sort of hard to pick against.  Maybe The Artist is that good and the debate will be over.  This year is up for grabs.
Anyway, back to Spielberg, who before The Adventures of Tin Tin made us hate him for bringing Indiana Jones back for such a listless adventure back in 2008, has returned for his sixth two-movie year since 1989.  That year he made the last good Indiana Jones movie with The Last Crusade and the much-maligned Always.  In 1993 he made Jurassic Park and Schindler's List.  In 1997 he made The Lost World and Amistad (and followed it with the next summer's Saving Private Ryan).  In 2002 it was Minority Report and Catch Me If You Can.  In 2005 he made War of the Worlds and Munich.  When Spielberg works, he seems to do it in bursts–he likes to do that big action/adventure/sci-fi film and follow it up with a prestigious Oscar offering.  I think in the eighties he felt like he got burned by trying to do Oscar-bait pictures and not going back to his roots once in awhile, because after all, Spielberg became Spielberg with Jaws, Close Encounters of the Third Kind, E.T., and Raiders of the Lost Ark, and people missed that in the Color Purple/Empire of the Sun era (4 long, long years).
War Horse, in a strange way, is like a Spielberg attempt at The Red Violin, where a non-human character is transported stranger to stranger over a period of time.  The non-human character is the main character, and with much anxiety we follow it to each new pair of hands, hoping that it/he stays safe.  The journey begins in Devon, England in 1914 just before World War I.  The first owner of the horse is Albert (Jeremy Irvine), who gets the horse because his fool drunk father Ted (Peter Mullan) buys him at an auction just to outbid his landlord Lyons (David Thewlis).  It's money he doesn't really have, he needs to pay rent and the money was supposed to go towards a plow horse.  This is a thoroughbred.  The challenges of getting a thoroughbred to do plow work will be nearly impossible.  They need him to do it, though, and only the will of Albert will get this horse to do the work.  The horse now becomes our underdog.  We root for the underdog.
Things go well for awhile but bad luck strikes, and when World War I hits, Albert's father sells the horse to the English Army.  We have the usual heartbreaking moment where the kid who loves his animal says he'll do anything to keep it, but can't.  Then the vow to find him someday.  The new owner is Captain Nicholls (Tim Hiddleston, having quite the year with Thor and Midnight in Paris).  He goes into battle, and not long after we've got Germans (including The Reader's David Kross) owning the horse and wanting to defect to Italy.  Then a French girl and her grandfather, the French Army, who take the horse and use him for back-breaking artillery hauling.  A scene with an English and German soldier during a minor truce strains a bit of credibility, but hey, we've heard stranger war stories.  Finally, will Albert (now a soldier) miraculously reunite with the Joey the Horse?
As I mention in the title, I am not made of stone.  I found many of these episodes in the life of the "horse that could" to be touching.  We find humanity in war, people going to great lengths to save and care for the horse when it is probably their own ass that they should care about.  You'll damn near cry towards the end, and I won't tell you whether the ending is happy or sad, because really, any kind of solution to the horse and Albert's reunion is going to make you feel something, sadness with crying, exhilaration that makes you weep, perhaps anger (and tears) at the movie's playing on your emotions.  Some people don't like the manipulation, although I think manipulation is a strong word, but really you have no choice.  Robert Zemeckis and Tom Hanks made millions feel emotion towards a volleyball in Cast Away.  When it comes to a living, breathing, awesome animal that's been through all sorts of drama, you're screwed.
Ultimately, I enjoyed the movie because it hearkens back to the old days of filmmaking.  This has that old Sergeant York feel, right down to the World War I era.  If the movie had been made in the thirties and forties it would be considered a classic.  Today, it's sitting at 75% on Rotten Tomatoes.  That's a good score, but obviously 25% or so of the people who took time to review this didn't like it, or hate horses, or still hate Spielberg for The Kingdom of the Crystal Skull, or just think this movie is too old-fashioned, too impossible, too obvious in its intent.  I rooted for the damn horse, OK?  Leave me alone.
Comments
Write a comment
You must be logged in to post a comment.