We Bought A Zoo Is Guaranteed To Be Exactly What You Think It Is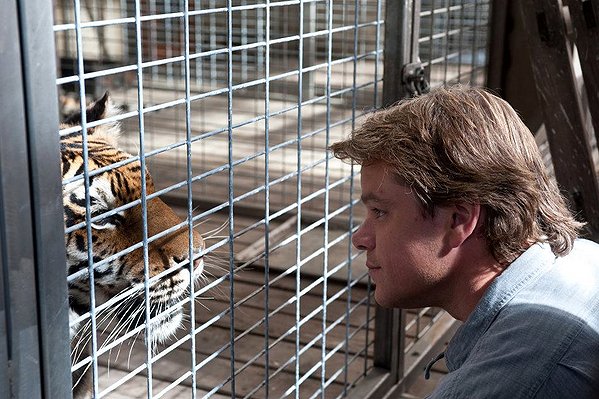 We Bought A Zoo
Directed by Cameron Crowe
Written by Crowe and Aline Brosh McKenna based on the book by Benjamin Mee
Fox, 2011
Cameron Crowe, who is somewhat of a legend although you'll never see him on a "Greatest Directors" list, has brought us Say Anything, Singles, Jerry Maguire, and his best film, Almost Famous.  In 2001, he gave us the extremely polarizing Open Your Eyes remake Vanilla Sky, and in 2005 gave us his lowest effort, Elizabethtown, which wasn't terrible but disappointing.  He also brought us the screenplay for Fast Times at Ridgemont High.  Now he brings us We Bought A Zoo, his first film in 6 years, and the results are, well, expected.
As absolutely bluntly simple as the title of We Bought A Zoo is, so goes the movie.  It's your basic everyday family drama wrapped inside a high-concept crazy notion.  It's kind of like Field of Dreams: do something insane that costs a lot of money and nearly ruins your family, and just when you think it's time to quit, you push harder because "people will come."  In Field of Dreams, Ray Kinsella (Kevin Costner) is driven unknowingly by the ghost of his father.  In We Bought A Zoo, Benjamin Mee (Matt Damon) is driven by the ghost of his wife.
It's based on a true story.  There are some differences.  For instance, the real Mee bought the zoo when his wife was still alive, but three months later she died from complications of a brain tumor.  But I imagine much of what happens here is basically how it really went down.
Mee has to take care of his two kids, the troubled teen Dylan (Colin Ford) and his irresistibly cute daughter Rosie (Maggie Elizabeth Jones).  When Dylan gets expelled from school after stealing and showing his dark side through drawings, Mee decides it's time for a fresh start.  He goes looking for a new house (with an agent played by Curb Your Enthusiasm's JB Smoove), and ends up finding the one of his dreams…only to find out it's a zoo.  It's a zoo that needs a lot of upkeep, has some older animals including a suffering tiger, and to open again it needs to pass a strict inspection from Walter Ferris (John Michael Higgins).
Like all insane ideas in movies, the main character is reticent to buy the house because you know, it's a zoo and all.  But then, that crazy adventure streak kicks in and Mee is all about buying a zoo.  He meets the zoo staff led by zookeeper Kelly Foster (Scarlett Johansson, who you might have recognized, is hot…even when they dial her glamor looks down a notch), Peter MacCready (Braveheart's Angus Macfadyen), financial advisor Rhonda Blair (Apatow regular Carla Gallo), Robin Jones (Almost Famous' Patrick Fugit), and soon-to-be Dylan's love interest Lily Miska (Elle Fanning).  They are all hard workers, a little skeptical and hopeful of the new owner.
Also, you have Thomas Haden Church playing Mee's brother Duncan, who encourages Benjamin to leave the past behind, but is understandably skeptical when he decides to go this route.
From there, we get our predictable crowd-pleaser and that isn't a bad thing.  Dylan hates the new surroundings and is a prick and there needs to be a showdown between he and his dad before he can get better, Kelly Foster is somehow going to find a way to be Mee's love interest, there will be complications and hard decisions to make concerning finances and animals that might need to be put down, and an obligatory "animals get out of their confinements" scene or two.  And this all leads up to the big moment where they get inspected a week before they open to the public–can they possibly beat all the odds?  Yeah, you know.
So ultimately I found this movie to be exactly what I expected, and I liked it.  Matt Damon is always likeable, he brings average-guy sensibilities and intelligence to these roles.  He seems to know exactly what he's playing and is relatable in almost every role.  I think Johansson is OK in this, although an early scene where she's barking at Damon comes off a little cringe-worthy.  I always will believe she has some of that early promise and will convert it into a great performance one day.
In the end, this isn't going to be a tremendous highlight in Cameron Crowe's career, but I think enough people will want to see this to give him a decent hit.  Side note: Sigur Ros' lead singer Jonsi (Jon Thor Birgisson) does the original music here and it's good, but Crowe has always been a soundtrack guy and of course you'll hear Tom Petty and other favorites, but a quite good Petty tune is here: "Don't Come Around Here No More," which happens during the expulsion scene.
Write a comment
You must be logged in to post a comment.