The Sitter Ain't Great, But It Has Laughs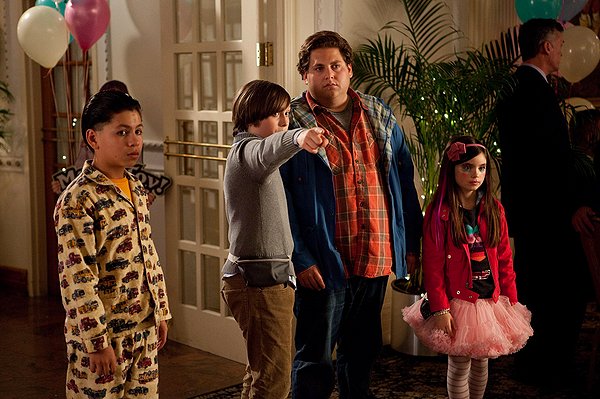 The Sitter
Directed by David Gordon Green
Written by Brian Gatewood and Alessandro Tanaka
Fox, 2011
Earlier this year David Gordon Green delivered Your Highness, which was an absolutely terrible comedy.  Now he brings us The Sitter, which currently sits at around 30% on Rotten Tomatoes. Now I understand this movie not being generally beloved, with a 70% or higher rating, but this is one I'm going to disagree with most people on.  I laughed a lot in The Sitter, and despite any other factors that might try to ruin my enjoyment, that's the bottom line when it comes to comedy.
Much of the vitriol is being flung at director Green for his career shift that doesn't make much sense.  A critical darling with George Washington, All The Real Girls, and Undertow, Green got hooked up with Judd Apatow a few years ago and did Pineapple Express, and ever since, he's been making dirty comedies.  Also, The Sitter just seems like an R-rated Adventures In Babysitting.  That movie starred a young Elisabeth Shue and everyone who grew up in the eighties could recite lines from it.  "Don't fuck with the babysitter," was the most-used line when I was in middle school.
So The Sitter has a lot of things going against it before you even watch it.  But I really got along with it overall.  In this, Noah Griffith (Jonah Hill, obviously no stranger to Apatow filth) is a lazy, kind of an asshole dude in his twenties.  He has no idea that his coke-whore of a girlfriend, Marisa (Ari Graynor) is that much of a coke-whore, although she does let him go down on her from time to time.  Noah goes home to learn his single mom (Jessica Hecht) has a hot date, but a friend of hers has just had a babysitter cancel, meaning either Noah subs in as a sitter or his mom can't go on the date. He is of course reluctant.
So Noah takes off to babysit three distinct personalities.  Blithe (Landry Bender), Slater (Where the Wild Things Are's Max Records), and adopted son Rodrigo (Kevin Hernandez).  Blithe is a too-young wannabe Paris Hilton, Slater is a quiet, disturbed 13-year-old who takes meds and is struggling with something he can't understand, and Rodrigo is a kid who acts out with toilet bombs and running away and generally being inappropriate.  The plot turns into "night from hell" territory when Noah's pseudo-girlfriend calls him and tells him she'll totally do him if he brings some coke to a party.  As always penis overrides brain in these situations.
What follows is your usual trappings of the "fucked-up night movie."  Buying the coke introduces us to zany characters and situations.  The best of the bunch is the coke dealer Karl (Sam Rockwell), who apparently is constructing some sort of underground lair where he has muscle-bound men working out and, I don't know, training for something?  Anyway, the coke den/gym is a truly nutty masterpiece of the movie, as is Rockwell, who has always been a great comic character actor.  He's that nice-guy drug dealer who keeps track of all of his best friends, but he's obviously got a drug dealer's bad side: When Rodrigo steals a glass egg full of $10,000 worth of coke, Noah suddenly finds himself on Karl's shitlist.
When the coke takes its obvious plot turn, Noah has to find a way to pay back Karl, but it introduces a whole lot of other law-breaking and chances for the kids to get lost.  Noah, like all antiheroes, starts to like the kids and gives them absolutely terrifyingly perfect advice.  All the kids have their one thing that they have to work through, and big daddy Jonah Hill is there to save the day with pointed words.  Also, he meets an absolutely adorable potential new girlfriend in this adventure, Roxanne (Kylie Bunbury).
So yeah, none of the character changes in Noah really make sense or are earned, the story is all-too-familiar, there are a lot of scenes, like Ebert mentions in his review, where the obvious thing happens: like the one where Noah runs into a large group of black people and it plays on that fear of white people being surrounded by lots of black people, only to find out they're really cool.  But I found lots of laughs there, too.  Method Man's cameo as the boyfriend of a girl (Samira Wiley) that Noah has wronged in the past got me laughing, as was the sort-of epilogue buried in that scene, where we see the kids having fun at the predominantly black bar.
I will say that pop culture references are not usually my thing, but here the delivery of references to JonBenet Ramsey and Bell Biv Devoe caught me off guard, those sort of extremely relic-y references, knowingly tired but apt for the situation, hit me just right.  It's that kind of movie.  Strange situations and filthy dialogue mixed with those sweet "the more you know" type of scenes.  It's certainly not the best comedy you'll ever see, but it has enough in it to say it's not terrible.
Write a comment
You must be logged in to post a comment.