Tower Heist Is Ludicrous, But Entertaining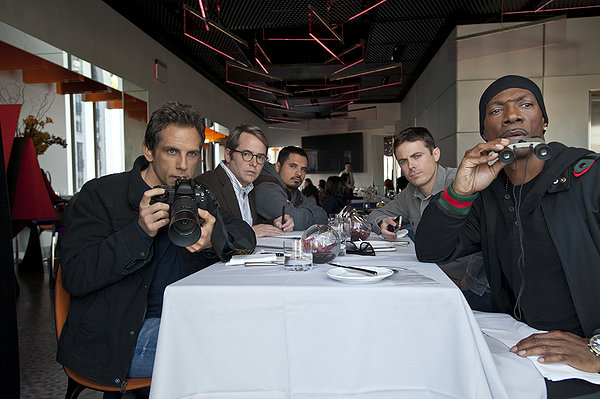 Tower Heist
Directed by Brett Ratner
Written by Ted Griffin and Jeff Nathanson from a story by Griffin, Adam Cooper, and Bill Collage
Universal, 2011
It's easy to dislike Brett Ratner's films.  He's been branded a sort of poor man's Michael Bay.  When X-Men: The Last Stand hit theatres 5 years ago, Ratner was Joel Schumacher meddling with the beloved Batman franchise.  He was in way over his head for Red Dragon, an adaptation of Thomas Harris' Hannibal Lecter story that had been expertly made by Michael Mann in the eighties and called Manhunter.  He made three Rush Hour movies, all with varying degrees of hated it/sort of hated it reception.
Well, I kind of liked some of the movies that Ratner has been vilified for.  I didn't think Rush Hour 3 was a great movie by any means, but I got caught up in its ridiculous vibe.  Really, that whole series has awful moments, but I never thought the movies as a whole were terrible.  And even though I haven't seen X-Men: The Last Stand since it came out, I don't remember hating it.  Ratner is a guy who makes dumb movies, and his style wasn't really suited to X-Men or Hannibal Lecter, but I think he's a hell of a lot better than Bay, and seems to know that his movies are ridiculous and goes with it.  I'm not sure Ratner deserves to be lumped into the eye-rolling category of his equally despised contemporary.
Tower Heist rolls out a huge cast in an insanely ludicrous plot.  Josh Kovacs (Ben Stiller) is the manager of a huge hotel in Manhattan that is, well, pretty much the Trump Tower but called "The Tower" here.  The penthouse tenant is wealthy Madoff/Trump type Arthur Shaw (Alan Alda) who plays online chess with Kovacs in the story's on-the-nose metaphor.  Shaw seems just like an average, everyday normal guy proud of his Queens roots, something he shares with Kovacs.  Kovacs is an amazing hotel manager, knowing every tenant's wants and needs, he oversees a huge staff, including concierge Charlie (Casey Affleck), doorman Lester (Stephen McKinley Henderson), new elevator operator Enrique (Michael Pena), and maid Odessa (Precious' Gabourey Sidibe).  His direct boss is general manager Mr. Simon (Judd Hirsch).
One day, Shaw gets arrested.  Apparently, he stole all the hotel employees' pension fund.  Kovacs is willing to believe that Shaw didn't do anything wrong at first, but then gets wise, thanks to FBI Special Agent Claire Dunham (Tea Leoni, who with Stiller and Alda makes this quite the Flirting With Disaster reunion).  Shaw appears to not only have stolen the pension fund, but he's going to get away with it, and be a dick about it.  Kovacs rounds up some his disgruntled employees, a former Wall Street math whiz who has lost his job and his space at The Tower, Mr. Fitzhugh (Matthew Broderick), and a neighborhood lifetime thug named Slide (Eddie Murphy, in pretty much a supporting role), and the plan is to steal $20 million that Shaw likely has stashed away somewhere in his penthouse.
I love almost everything about the planning of the heist, Kovacs using his incredible inside-and-out knowledge of The Tower to make such a stunt somewhat plausible.  Eddie Murphy is almost all the way back to his Trading Places days for a fleeting section of the movie, in just the kind of role we loved Murphy for in the eighties: disreputable, even when he played cops.  And I really liked Matthew Broderick in this.  It's odd that his best-known role is as a confident high-schooler who thumbs his nose at the rules as Ferris Bueller, but Broderick's fidgety Leo Bloom days (preceded by his turn in The Cable Guy) define him as an actor now, and it works perfectly here.
The whole climax of the movie is absolutely, utterly insane.  In fact, in some ways it drags the movie down a whole bunch because these are normal guys trying to pull off an extraordinary heist, but when it starts playing with the laws of physics the movie has that "Oh come on!" feel to it.  You ever watch Bruce Willis in Die Hard and think, "Yeah, you know, that's insane, but it seems like it could logically work given the parameters."?  Well, in Tower Heist, guys like Ben Stiller and Matthew Broderick are pulling off stunts that Bruce Willis would have rejected as too over-the-top.  Believe me, I love when movies lose that inhibitor chip and just decide to go "all-in" on nonsense, but considering the journey we take before the heist, it seems a bit much.  I still respect the nonsense, though, and had fun with it anyway.
Write a comment
You must be logged in to post a comment.