Warrior Is the Best Crowd-Pleasing Fight Movie In Ages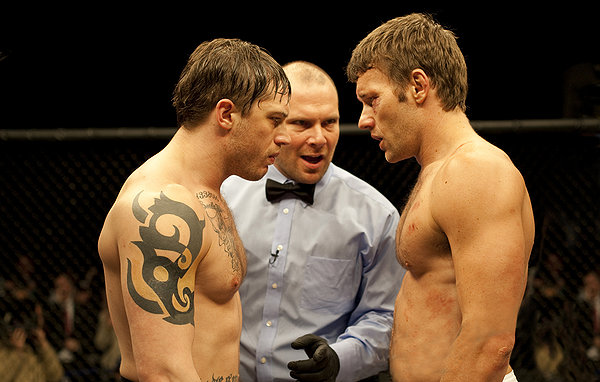 Warrior
Directed by Gavin O'Connor
Written by O'Connor, Anthony Tambakis, and Cliff Dorfman
Lionsgate, 2011
Most of the serious fight movies that have come out this past decade have been good, or even great.  I think Cinderella Man is great.  The Fighter is good.  Million Dollar Baby is for the most past good.  But we haven't seen much in the way of how much the competition means to the fighter.  Boxing movies in general seem to take that underdog story, a nobody from nowhere, and the fight is a means to accomplishing something with his (or in the case of Baby, her) life.  We haven't seen anything like the fight movies I grew up on, those eighties movies that still have life today: The Karate Kid and Rocky IV.
Warrior lands somewhere in-between, but make no mistake: the fights mean something.  They're personal.  That's what makes good fight theater.  Many times we see these fight movies and there doesn't seem to be any ounce of hatred other than the simple, "you versus me."  How about throwing in some grudges?  Some bad blood.  Warrior takes almost every grudge match imaginable and fits them all into one movie.
The story is this: Brendan Conlon (Joel Edgerton) is a struggling high school science teacher, and in his spare time and unbeknownst to his wife (the always welcome Jennifer Morrison), he's taking on some parking lot/strip club UFC fights to earn extra cash.  The house is getting close to foreclosure.  His daughter had a heart transplant.  Their money is dwindling.  There was a time Brendan got into these fights and got badly beaten, and there was some sort of vow not to do it again.  But now the money has to roll in somehow.
Brendan's brother Tommy (the brute force of a man known as Tom Hardy, of Inception) has just come back to Pittsburgh and mysteriously re-enters the life of his alcoholic father, Paddy (Nick Nolte, in a heartbreaking performance).  There's a horrible history between the two.  It involved Tommy's late mother.  Paddy obviously used to be the worst kind of drunk imaginable.  But he's been sober "going on 1,000 days."  Tommy doesn't appear to be impressed, he's still defiant and doesn't want to hear apologies.  But he has his own demons.  Something happened in the Marines that made him change his name.  He could be both a goat and a hero at once.  He wants to get into the ring.
We see Tommy beat the crap out of a guy who is supposed to be one of the best MMA fighters in the world.  This is how he gets his shot at a Grand Prix of MMA, a 16-fighter tournament with a $5 million prize.  Entering the ring is a bad-ass Russian named Koba, fighting on US soil for the first time.  Brendan's shot comes about by accident: a would-be contender being trained by his old friend Frank Campana (Frank Grillo) pulls up lame during a run.  Brendan asks for a shot.  It's a super long-shot.  The guy has fought some good fights, but not against competition like this.  Somehow he's able to convince Frank to give him a chance.
Meanwhile, there's this distance between the brothers and their father.  There's a grudge between the brothers as well.  One stayed home, one left town, and it's never been the same.  For awhile, no one knows that they're brothers.
The drama before the tournament is compelling.  It's intense.  The movie excels, however, at the point where the tourney begins, especially when it gets to the last three fights.  The last three fights feature David Vs. Goliath, A Grudge/Revenge Match, and, what cannot be a surprise to you since you've seen the trailer, a fight between brothers.  Brendan's underdog story is pretty improbable, but we keep hearing how tough the guy is so we accept the poundings he takes as he finds some way into victory.  Meanwhile, Tommy is a brute.  The guy is an absolute monster, propelled by demons.
It's crowd pleasing and somewhat complex.  Who do you root for in the end?  Both characters have their lives on the line.  We've been following them the whole movie.  Of course that's not the point.  But luckily the fight between them is exactly what it needs to be.
It's been awhile since I came out of a movie just feeling so great about what I just saw.  Warrior hits the right notes in drama and action, and it's one of the best movies of the year.
Comments
Write a comment
You must be logged in to post a comment.