Water For Elephants Is Predictable and Harmless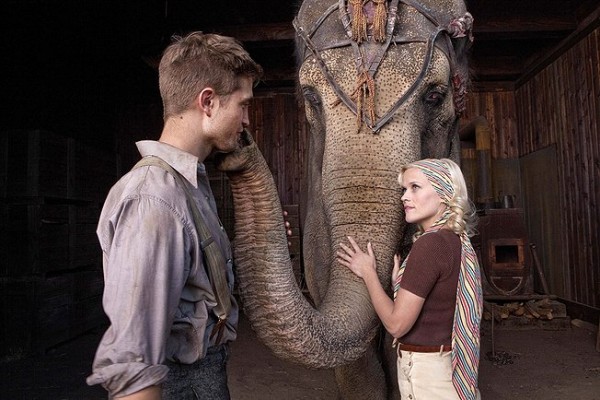 Water For Elephants
Directed by Francis Lawrence
Written by Richard LaGravenese based on the book by Sara Gruen
Fox, 2011
Francis Lawrence directed I Am Legend and Constantine, and writer Richard LaGravanese is best-known for The Bridges of Madison County, The Horse Whisperer, and The Mirror Has Two Faces.  Water For Elephants currently sits below 30% on the critics' aggregation site Rotten Tomatoes, and today, I'll give the movie a break.  I would like to stress that I don't think this movie is fantastic in any way, but if you are craving to see this movie, I don't think you'll be disappointed.
Jacob (Robert Pattinson of Twilight) is a Cornell veterinary student who loses his parents in a car crash just before he graduates, and ultimately is left with nothing after their death.  He ends up hopping unknowingly on a train carrying a circus troupe, and it's not long before he's doing some circus dirty work.  He meets the beautiful performer Marlena (Reese Witherspoon of Twilight…the Robert Benton one from 1998), but she's married to the circus' ringleader August (Christoph Waltz, apparently stuck playing villains with a warm demeanor but fiery underbelly), who is a cruel and murderous guy.  He doesn't treat the animals very well, and if you cross him you have a good chance of being thrown off a moving train.
Jacob shows his talent as a (not licensed, but knowledgeable) vet early on when he diagnoses the star attraction, a beautiful white horse, with an affliction that the horse probably should be put down for.  August makes Jacob his vet, and thus enters the uneasy, but inevitable love triangle.  When an old elephant is introduced as the new star of the circus, August's cruelty really begins to show, Marlena starts falling more in love with Jacob, and well, you know how that story goes.
In the acting category, only Hal Holbrook, who plays the older Jacob relating the story to a circus manager (Paul Schneider) really shines overall.  I think Pattinson is pretty stilted and gives almost no effort here, and Reese Witherspoon's promising acting career is turning into a head-scratching thought.  The carney folk on the fringe of this story are more interesting than the main characters and are always a welcome sight.  But the movie has some nice cinematography (Rodrigo Prieto) and a good score (James Newton Howard), and ultimately, you can do worse, which isn't high praise but dammit, if you're in the mood for a romance then this will fit the bill for awhile.
Write a comment
You must be logged in to post a comment.